The closest thing to a holodek is now available to purchase via Kickstarter.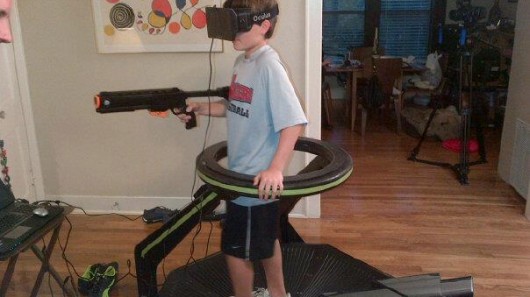 The Oculus Rift isn't the only virtual reality game in town. Virtuix has launched a Kickstarter campaign for the Omni, the first virtual reality interface for moving freely and naturally in your favorite game. A revolution in virtual reality is underway—consumers can now explore virtual worlds with the natural use of their hands and eyes thanks to affordable devices such as the Razer Hydra and Oculus Rift.
The Omni evolves virtual reality one step further, allowing anyone to stand up and traverse virtual worlds with the natural use of their own feet. Moving naturally in virtual reality creates an unprecedented sense of immersion. The Omni will free gamers from passive, seated gameplay, unleashing the full potential of virtual reality gaming with the Oculus Rift and future head mounted displays.
"Gaming on a keyboard, mouse or gamepad while seated pales in comparison to the intense experience and fun that comes from actually walking, running, and jumping in games." said Jan Goetgeluk, CEO of Virtuix. "Bringing this innovation to Kickstarter will accelerate the integration of natural motion into emerging virtual reality applications such as gaming, fitness, and simulation."
The Kickstarter community has been instrumental in funding the current wave of exciting new virtual reality technologies, making Kickstarter the ideal place to launch the Omni. Kickstarter funding will be used to prepare for final production and get Omnis built and into the hands of as many gamers, researchers, enthusiasts, and developers as possible.
The Omni is a natural interface for moving in virtual reality. The result of two years of design and testing, the Omni has a base with a grooved, low-friction surface. Special pinned shoes keep the foot stabilized and prevent lateral sliding. A stabilizing ring at the waist and a support belt keep users in place while walking on the Omni. Users walk naturally, and the result is a natural interface that works with any game or application that uses keyboard input. Walk, run, jump, crouch, or strafe—movements mapped to the keyboard can be mapped to natural motion with the Omni.