Madden NFL 25 is getting new head-to-head season mode.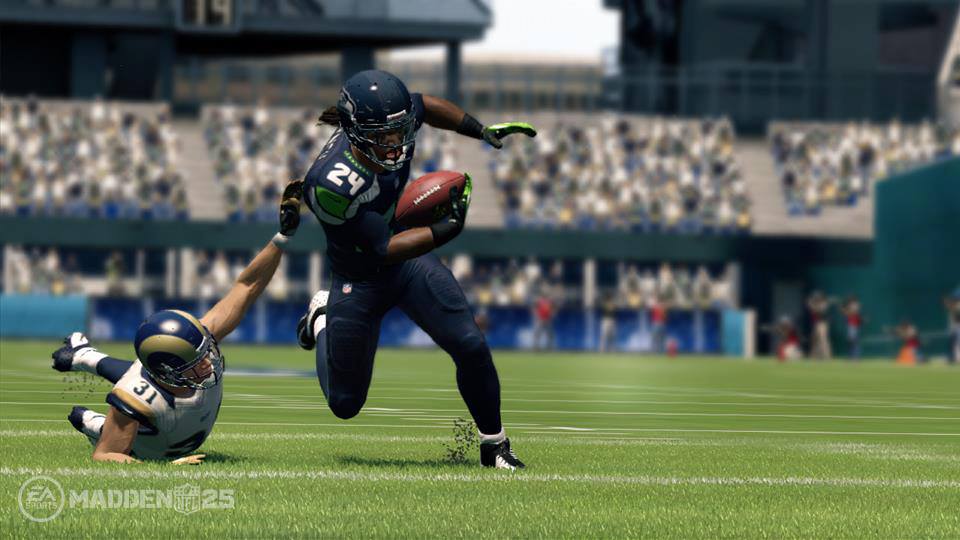 EA Sports has released information on the Madden Ultimate Team in the Madden NFL 25 Playbook. The perennially popular mode provides fans with fresh ways to not only build a legendary team of NFL stars, but also exciting new ways to put their squad to the test. The return of Chemistry revamps the way lineups are created, and the new Head-to-Head Seasons mode brings higher stakes with richer rewards. Last but not least, the radically improved Best Lineup feature allows you to quickly and easily sort through your entire roster and reserves to make sure you have the best possible team on the field.
Team Chemistry adds a new wrinkle to Madden Ultimate Team, with on-field performance enhanced depending on how well teammates mesh. With four offensive and four defensive styles to choose from fans must determine their team identity and then fill their roster with players who not only look good on paper, but also fit into the scheme.
The new Head-to-Head Seasons mode provides an exciting twist on the traditional formula, pitting players against one another in a 10-game season with a playoff for those who qualify. Try to earn a first round bye, and then storm through the playoffs in order to win coins and reward packs. With 8 levels of competition there's always a new challenger waiting to test your skills.
This year also marks an overhaul to Best Lineup, where a simple tap of a button will sort through your entire collection and put together your highest-rated team on both offense and defense. Those with a large roster of both active and reserve players who don't want to spend a lot of time organizing can simply tap Best Lineup and immediately see their most formidable squad.
More information on Madden Ultimate Team will be coming soon, with an in-depth blog fully detailing Chemistry on July 15, and more details on Head-to-Head Seasons on July 22.
Madden Ultimate Team gives fans the opportunity to collect star players, set lineups, and complete collections to earn coins, special packs or elite players and items. In addition to buying packs in the online store, Ultimate Team enthusiasts can post and bid on items and players on the auction block. Throughout both the regular season and off season, Ultimate Team players will find special challenges and rewards for big games, holidays, special events and more.
This year Madden NFL 25 invites players to Run Free and utilize the precision modifier to access a library of 38 different ball carrier moves. Embraced by fans and honored by critics for 25 years, Madden NFL is known as the NFL's "33rd Franchise" due to its authentic gameplay, the development team's unparalleled access to NFL resources and its prominent place in NFL culture.