iRacing.com is bringing the addition of touch control features to the latest update of the popular online motorsports service.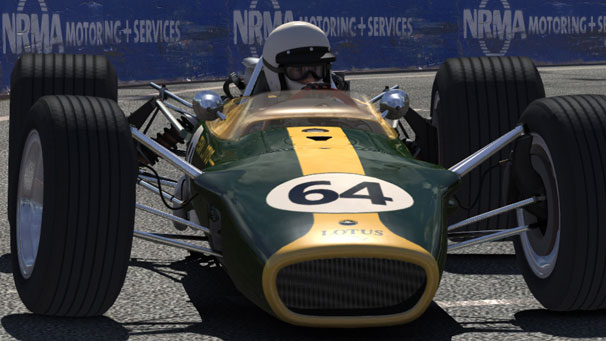 iRacing.com, working together with Intel Corporation, is bringing the addition of touch control features to the latest update of the popular online motorsports service. Thanks to a development project between the two companies, iRacers around the world will now be able to drive their virtual race cars with just the touch of their computers' touch screen or their tablet PCs and Ultrabook devices.
"Once iRacing started development work with Intel, we quickly found the touch functionality in the 3rd Generation Intel Core processor-based Ultrabook devices was light years ahead of any touch screens we could find on the market," says Steve Myers, executive vice president and executive producer at iRacing. "This will enable iRacers to drive and even make pit stop adjustments to their cars without reaching for the keyboard. Touch makes it possible to drive and enjoy the whole iRacing experience, and also opens the door for future development projects for the sim."
"The iRacing and Intel collaboration to enable the iRacing software on the Ultrabook and Ultrabook convertibles with touch capabilities has been exciting and rewarding" said Ian Crook, Marketing Manager, Software and Services Group at Intel. "The new touch interface enabled by the iRacing software enhances the interaction of racing simulation on an Ultrabook, helping to demonstrate the performance of 3rd gen Intel Core processors and HD Graphics, and allows a play-it-anywhere mobility experience."
Race fans the world over have been enjoying the whole iRacing motorsports simulation experience since 2008. Featuring meticulously detailed digital models of dozens of famous race cars, together with laser-scanned replications of race tracks throughout North and South America, Europe, Asia and Australia, iRacing is the world's foremost online motorsports service.
"Innovation is a driving force for iRacing and iRacers," says Myers. "We have to constantly listen to what our customers want, and provide it to them. Thanks to our work with Intel, we've succeeded in doing just that. Touch technology is just the latest example of the innovative relationship enjoyed by iRacing and Intel, and we are thrilled to be a part of this exciting new platform."
In addition to touch functionality, the latest version of iRacing features an extensive list of updates and new features including an innovative new approach to team racing which is the first of its kind. The ever expanding catalog of content is also growing with a pair of historic tracks -- Rockingham Speedway and Oran Park Raceway – included in the new update with a number of exciting cars including the McLaren MP-4 GT3 scheduled for release by year's end.