Check out our disection of the trailer for WWE 2K14's Season Pass!
The announcement of Season Pass DLC shortly before the release of a game has become a common action in the world of video games. As controversial as it may be, the promise of additional content for a game that has yet to be released is both exciting and frustrating. Still, when 2K Sports quietly released a video on its YouTube channel today, the WWE Universe began to buzz with excitement. 2K Sports has announced the Season Pass for WWE 2K14.
The 1:15 second video showcases all the additions that are coming to the WWE Universe through WWE 2K14's Season Pass. There are Superstars, Divas, Legends, and more all jammed packed into one awesome trailer. There is so much awesomeness in this trailer, that we here at GamerHub TV have decided to dissect it, frame by frame, for you!
The trailer begins and we get out first look at the Superstars and Divas that will be appearing in the game. Here, we get a look at Fandango and Summer Rae! Fandango has set the WWE Universe on fire. With his flamboyant style and athletic ability, his victory over Chris Jericho at WrestleMania 29 shows that he is a true Superstar on the rise. Considering he is a fairly new Superstar, it is a coo that 2K Sports was able to include him in the game.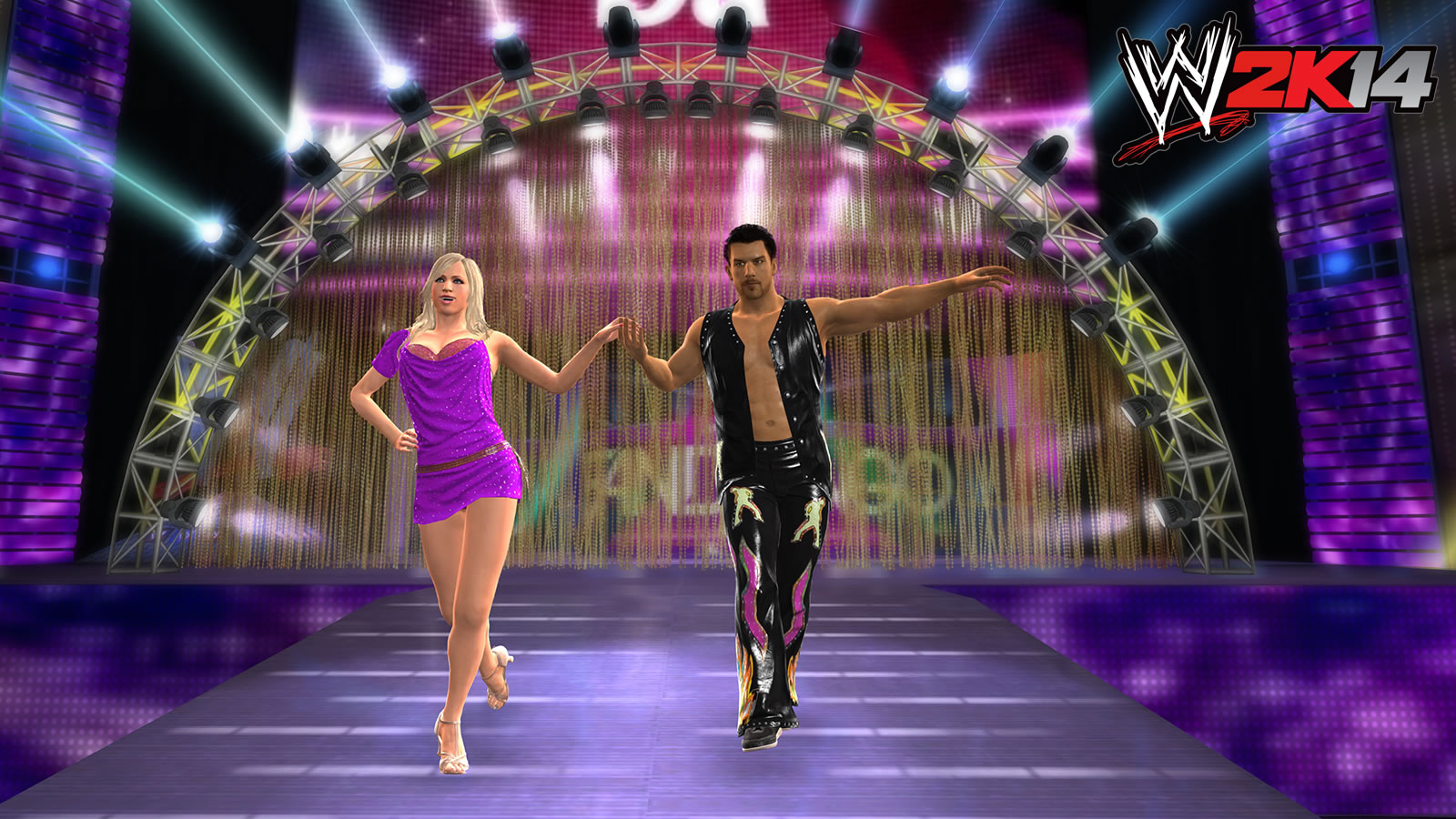 Did Disco Inferno have a son?
Along with Fandango, we get a look at his current valet and the First Lady of NXT Summer Rae. In a conference call with WWE Games Creative Director Cory Ledesma, he revealed that NXT would have a small presence in the game through titles and arenas and that he is interested in including more NXT content in the future. Summer Rae will not only accompany Fandango to the ring, but she will also be a playable diva in the game.
We also get a look at The Bella Twins. These sinister sultry sisters, and stars of E!'s Total Divas, have become the usual suspects when it comes to Diva DLC. We also get a look at Jake The Snake Roberts, who we assumed would be in the game due to the game's focus on WrestleMania and the Undertaker's Streak. But the surprises continue as we get to see a few Superstars that were rumored and a few that are a complete surprise.
The First Lady of NXT makes her WWE Game debut.
Greatly revered as one of the greatest WWE Champions of all time, Bruno Sammartino makes his debut in WWE 2K14. Bruno's relationship with the WWE and COO Triple H has been shaky for years, but with his recently signed WWE Legends Contract the WWE Universe will get to play as the legendary grappler.
Bruno is what's best for business.
Another rumored Legend making his appearance in the trailer is none other than Mr. Perfect Curt Henning. During WWE 2K14's daily entrance reveals, we saw Mr. Perfect accompany Ric Flair to the ring. Now, he is confirmed as a playable character. Absent from the game however is his son, and current Intercontinental Champion and Paul Heyman Guy, Curtis Axel. The legendary Rick Rude, American Dream Dusty Rhodes, and the often-underrated Virgil are also confirmed for the game. See a theme here? Here is a hint…three letters… W-C-W.
He's Perfect. And Perfect is better than you.