We go one-on-one with EA Sports' next gen hoops game.
Player spacing is a crucial element to ball movement in real-life action. Until now, basketball games haven't captured the speed of the game, player movement in the paint, or the need to call plays. This is the bulletin board point for NBA Live 14. It doesn't plan on impressing visually, they just wants to reintroduce themselves into the market, and provide competition. This installment in the proud basketball video game franchise is the right step forward for the franchise. This year is about establishing an identity to work off of for the series to build from.
It's time to roll the clocks back a bit. In 2013, NBA Live 13 was canceled a month before its release date. It was the second time in three years that Electronic Arts canceled the basketball series, and after its poor showing at E3 2012 it wasn't a surprise. After the cancelation the publisher went back to the white board with the series. "We started with a clean slate. Everything from NBA Live 13 is completely gone," said Sean O'Brien, producer on NBA Live 14, told GamerHub.tv. While I didn't believe that right away, it became clear that this NBA Live experience made the right changes during that extra year of development time.
During my demo session I got to control the Phoenix Suns as they went up against the Cleveland Cavaliers. This match-up doesn't have hold marquee talent on either side, but it allowed me test out the game's physic engine in real-time. Cleveland Cavaliers point guard Kyle Irving is a gifted athlete who can speed up and down the court, while having the ability to dish out flashy passes to his teammates. A player like Suns point guard Gorgan Dragic has the defensive capability to defend Irving one-on-one. This is where play calling comes into play.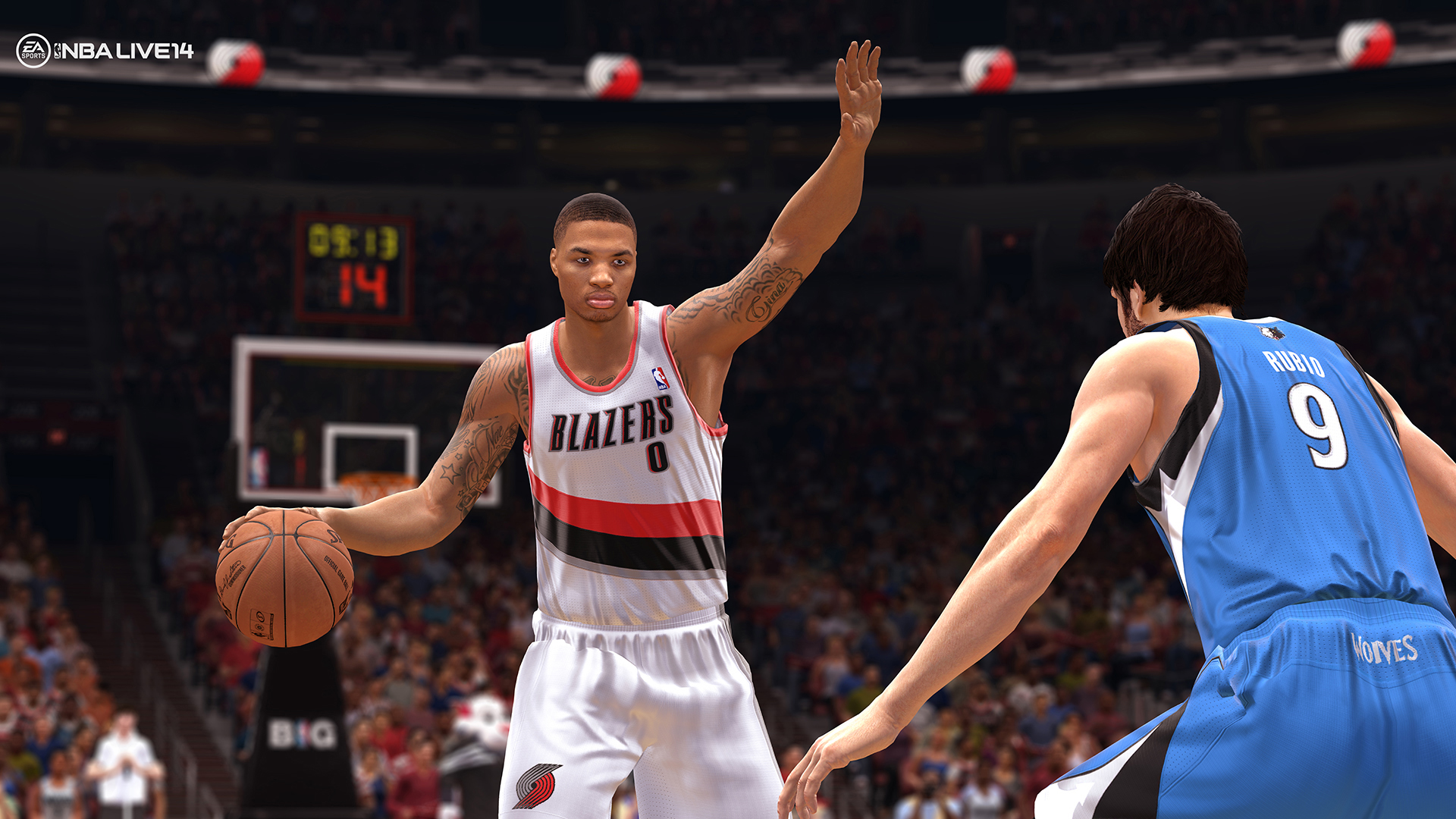 By setting a pick and roll, the defense will converge on your movement in the paint allowing you to dish to the open space on the floor to your corner shooters for a three pointer. If you want to work the clock, you have a number of options like working the post with your power forward or center. The game moves at a fluid rhythm at a pace that allowed me to play the way I wanted to play.
NBA Live 14 is a reboot for the series, but it takes inspiration from other EA titles, and still has leftover core ideas from NBA Live 10. Stat rosters will update to reflect the NBA season that is currently going on. This will calculate player tendencies to closely present them in video game form. Staple modes like NBA Player, Franchise mode, Ultimate Team, NBA Moments, and online multiplayer will be included.
On the presentation front, NBA Live 14 won't impress you, but is doable for a first-year entry into a console life cycle. Player body sizes tend to blend a center and point shooting guard together, but it's a very minor complaint. Jeff Van Gundy, Jalen Rose and Mike Breen are the commentators in NBA Live 14 and it really gives the game a solid base to work off of. I am going to have to see more from them to see if the trio can work. I wouldn't worry about the graphics because that isn't NBA Live's focus. It's attempting to deliver on strong fundamental gameplay.
Competition is good to have in any industry. It helps drive quality among rivals and consumers reap the rewards of better products. NBA Live 14 could be a good or bad game, but it will be a step forward for the basketball game market to see another face introduced. I am excited to see what the future holds for next gen basketball if it looks this good already. NBA Live 14 launches for PlayStation 4 and Xbox One on November 19.