Hands On with EA Sports' next gen football game.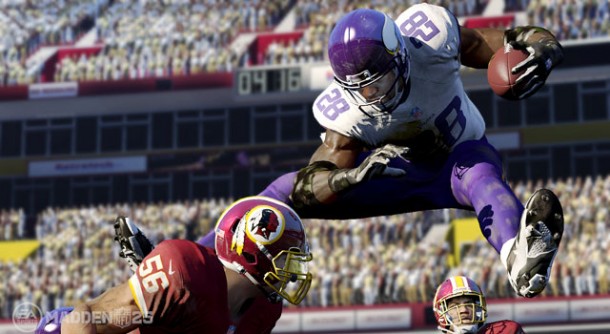 Madden NFL 25 is running wild, but this time on next gen hardware Xbox One and PlayStation 4. This was no surprise if you have been a fan of the series, which celebrated its 25th anniversary with this year's installment. The mantra for Madden NFL 25 is to run the ball on offense to help setup potential touchdowns. It's an effective metaphor for this year's next gen release.
Madden NFL 25 comes packed with franchise mode, Connected Careers, a mode which allows you to manage one of 32 NFL teams to the Super Bowl, Superstar mode, which literally puts you in the league to live out your fantasy, and Ultimate Team, the Madden trading card game designed around current and former football stars.
The presentations in the next gen versions of Madden are nearly identical to current gen. The main menu overlays that guide you through the modes are reminiscent of a tablet, which is more effective this time around. My experience was spent using the Xbox One console and the bumpers were easier to navigate. Graphics are vastly improved thanks to next gen hardware. Player models look better on the field and play like there real-life counterparts. The field gets torn up more realistically as the game progresses.
On the sidelines, NFL coaches hold a list of plays that there offense can draw up and execute. The Xbox One version of the game integrates Xbox Smartglass into the experience to give a statistical edge in play calling over your opponent. Through the course of the game, the Smartglass app will capture play-calling data granting you to get a better idea of your opposition's strategy. Data is displayed on a second screen through any tablet device. With this information players can target their opponent's favorite wide receivers and predict when they're going to run the ball, allowing them to call more effective defensive formations.
Let's say that I am playing as my favorite team, the San Diego Chargers, and the opposition is the pass-focused Denver Broncos. If the Broncos like throwing short passes to Wes Welker, you can organize your defense to eliminate that option, forcing him to throw to his other targets. The same goes on the offensive side of the ball. If the opposition is using the same cover scheme, the data will be displayed through the second screen device. This experience won't be a detriment to those who don't use it, but it will become a major tool too those who have it.
If you already have Madden NFL 25 on current gen systems then I suggest holding off on upgrading until next year's installment. This is a really good game that is held back by its current gen version. When next year's Madden rolls around, I don't expect it to carry any semblance of what we currently seeing.