The pick-and-flick hero could be destined for a return.
Back in the 90's, Interplay took a chance on a platforming hero called Boogerman, who used belches, farts and boogers -- you read that right -- to fight all sorts of nasty enemies. The game was an underground success, and, recently, its creators, Mike Stragey and Chris Tremmel launched a KickStarter to hopefully bring the B-Man back into the platforming fold. We got a chance to sit down with them and see what motivated them to bring back the gross-yet-good superhero.
Why Boogerman now? Do you think it's just the right time for this generation in gaming for his return?
It's really a combination of things. The main part being timing between Mike and myself. We have both been incredibly busy for the last 20 years in the industry, both working at different companies.
We have been speaking about working together again for years now and we were finally able to free ourselves up at the same time. The second part is definitely the recent resurgence of retro-gaming. We couldn't be happier about this as we have a true love for games from the 70's, 80's, and 90's and it's awesome to see new generations of kids getting into it as well! The third key piece is Kickstarter. Kickstarter has obviously played a huge role in helping a lot of different games to market over the last couple of years. Just having this platform available is a huge win for fans of gaming and game makers themselves.

Tell us your best memories from working on the original version...and how folks reacted to your ideas. Farts, burps, what have you.
The thing I remember most about making the original game was laughing, pretty much all the time. There were definitely a lot of long, tough nights during development as there always is during game development, but this one was probably the most enjoyable in terms of process for us. It probably comes from being so new to the game industry at the time, so naivety plays into that a bit I am sure. That being said, you couldn't work on Boogerman if you didn't have a certain sense of humor and fortunately everyone involved fit right in. We still get emails to this day about peoples love for using the chili pepper to burp fireballs and fart-fly around the levels.

Would you say the original game was well received when it came out, or did you get a lot of parent complaints? Heh.
The game seemed to be very well received at the time. Both sales wise and review wise we did pretty well. That being said, we have received many emails from people who were not allowed to play it as a kid due to the disgusting nature, but they hid it from their parents and played in secret, or played at a friends house. Those stories always make us laugh, especially when compared to the types of games that are out today. We were definitely no GTA. haha.

With the sequel, do you intend to go back to the game's side-scrolling roots? But with bigger levels, yes?
Yes sir, we definitely intend to return to the side-scrolling roots. Larger levels are definitely something we want to pursue, but more importantly levels with more replay-ability. In the original game you pretty much started at point A and finished the level at point B. Once you had gone through there was really no reason to go back other than farming for free-lives. This time we want to give the players options in regards to how they get through the space. We will always have the basic path that beginner can take from beginning to end, but the players that branch out a bit more and explore will be rewarded with new abilities and collectables that in turn open up even more challenges and gameplay options in the levels going forward.

Can you guys possibly come up with grosser boss monsters than Conker's Bad Fur Day's Great Mighty Poo? Because that's a classic.
THIS is a tough one. We obviously bow down to the Great Mighty Poo as one of the greatest video game bosses ever created. That being said, we have a few things up our sleeve so to speak. One of them based on a character designed for the original game named Cornealeus Corn-Kernal. There is another boss idea that I can't tell you about yet, but I can tell you it begins with the V.O. "RELEASE THE CRACK-IN!" You can use your imagination here.

How many people from the original team are returning for this sequel?
Funny enough, the original Interplay team was mainly Mike and myself. We would love to work with the original animation team but at this point everyone is so spread out through out the animation and game industry, it's just not feasible. That being said, we are bringing some incredibly talented folks along for the ride if the project gets funded. We have Grant Kirkhope from Rare fame composing the soundtrack for the game and the head writer from a brand new Disney property Star and Forces of Evil named Jordana Arkin writing the story and dialog.

Will the gameplay be about the same, or will Boogerman have new abilities? Maybe ear wax bombs?
We will definitely keep the core concept of running, jumping, burping, farting, picking, and flicking, but we plan to make some changes and additions at the same time. Certain attacks in the original game were a bit over-powered, while the lack of variety and ramping created a bit too much repetition. Those are the main things we would like to fix this time around, maybe not give the player everything from the start, and also create some differences between the attack types and the enemy vulnerabilities. We have learned a lot about making games in the 20 years since the original, so we definitely plan to bring that with us for the new game. Ear wax bombs sound disgusting btw.... we like it.
We saw that you recently announced a new co-op mode that will feature Earthworm Jim. Tell us how that will work.
We have always loved co-op games and have gone back and forth on this one a bunch of times for the new game. It's probably the most challenging aspect of the new games development as creating a fun co-op experience can be quite a bit different from creating a single player game. With that in mind, we want to create something that will be fun to sit down on the same couch and play with a friend. Our inspiration for this definitely comes from newer games like Mario Wii-U and Rayman Legends. The current plan will allow the entire game to be played co-op, but we are also planning some exclusive co-op levels that will take advantage of the characters teaming up together to make it through certain areas.
Will you still be able to warp through toilets? Or do we have outhouses this time around?
We are definitely bringing the toilets back. You can expect to see outhouses as well. :)

What's the story on vehicles? Did I really read something about a "fart copter"?
YES! The fart copter is going to be awesome! This was actually something designed for a sequel back in 1994 that we never got to make. It's basically what it sounds like... It's a flying helicopter type vehicle that is powered by natural gas. In addition it has TWO side-mounted gravity fed snot cannons attached for air to air combat! If you don't think this sounds like a fun idea, this is definitely SNOT the game for you.

Is there a possibility we'll see the original game re-released as a bonus unlockable? Or not yet?
We have talked about it, and honestly we would love to. However, there are a lot of things that would have to be resolved in order to make this happen. We are currently talking it over with Interplay, keep your fingers crossed! Until then however, you can buy the original on the Wii in the Virtual Console market place. It's the original Sega version, and it plays quite nicely on the Wii system.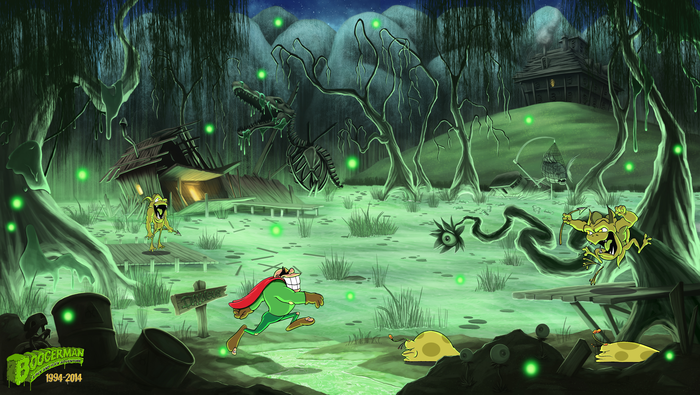 Finally, thoughts on a Boogerman TV series or movie? Too gross for that medium or just about right?
We have always thought a live action series or movie would be rad. Something along the lines of the Tick. If you search on youtube for "original boogerman television commercial", you can get an idea of what we are talking about. Funny thing is, it was being considered for an animated TV show back in 1993/4 but lost out to the Earthworm Jim cartoon. :(
Check out more details on the Boogerman Kickstarter here.