Robert Workman picks his top ten favorites for the year.
It's been a spellbinding year for video games. Sure, we've gotten some really bad stuff as well, and the next-gen games have left a bit of a dent, but the truth is, we've gotten some really wondrous stuff that will help set the pace for next year – and sell a few systems in the process.
So, without further ado, here are my top ten personal picks for best games of 2013, with a couple of runner-ups. They may be controversial, but they certainly aren't without merit. Plus, if you're not playing them right now, you're totally crazy…
Runner-Up: DuckTales Remastered (Capcom)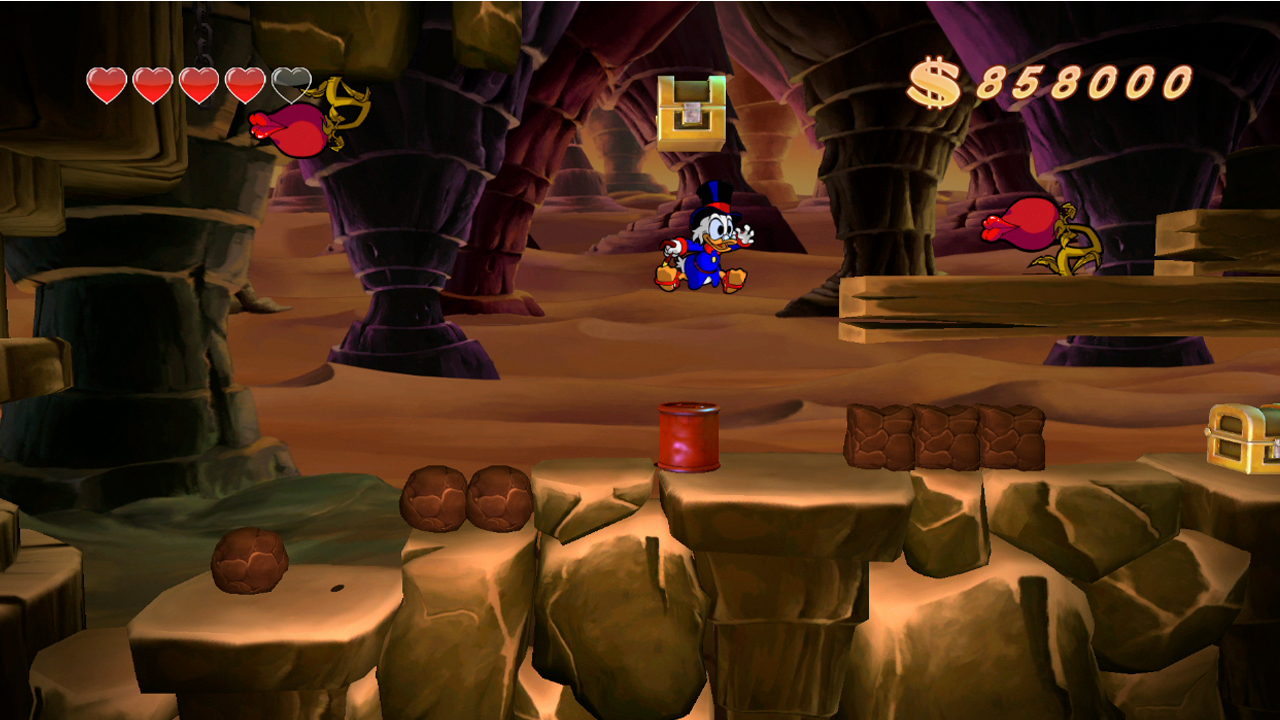 Just barely missing the list this year is Capcom's incredible reboot of an 80's NES classic, featuring exquisite Disney artwork, throwback music by the masterful Jake "Virt" Kaufman, and that cane-hopping gameplay that we can't get enough of. Plus, you can swim in the money bin. ACTUALLY SWIM.
Runner-Up: Lego Marvel Super Heroes (WB Games)
Easily one of the best Lego games to date, Marvel Super Heroes combines the thrilling action of the Marvel universe with the whimsical – yet enjoyable – Lego style we've come to expect from games. With over a hundred playable characters and hours' worth of action, this is one super hero adventure that doesn't bore.
10. DMC: Devil May Cry (Capcom)
It frustrates me how Capcom would chastise U.S. development teams over its own internal studios, but, honestly, Ninja Theory did something amazing with the Devil May Cry franchise. Featuring exquisite action, beautiful visuals and a young protagonist who more than lives up to the hype, this is a hack-and-slasher that no one should be missing. Welcome back, Dante.
9. Saints Row IV (Deep Silver)
There were some other impressive sequels this year – Assassin's Creed, Splinter Cell, Forza – but none could come close to the pure zaniness that Volition cooked up for Saints Row IV. From the weird 50's homage to the non-stop action to the new superhero-oriented gameplay that actually made a difference, Saints Row IV is good fun from beginning to end. Plus, it has the best DLC you can find on consoles right now. Where else can you save the city from Santa?
8. Rayman Legends (Ubisoft)
Even in the face of next-gen consoles, I find myself being fondest towards the return of its oft-running limbless hero. Rayman Legends is a breathtaking sequel, filled with challenging levels, stunning artwork, great music and the best multiplayer experience you can find on consoles these days. It's great to hear he'll be coming to Xbox One and PS4 next year as well. You mean this game will look better…?!
7. Tomb Raider (Square Enix)
In a game that isn't afraid to hold back on what could happen to our heroine – the deaths are downright gruesome at times – Tomb Raider is an effective and bold reboot that works incredibly well. With a brave new world patched together by Crystal Dynamics, solid puzzles and fast-paced, bloody action, it really knows how to tell an origin story. If you somehow missed out on it, don't worry – it's coming to Xbox One and PS4 next month.
6. Tearaway (SCEA)
Media Molecule put up a hard act to follow with its LittleBigPlanet series, but it somehow mustered a new kind of magic for Tearaway, one of the best PS Vita games to date. Featuring gameplay that effectively uses the system's capabilities without running into a level of annoyance, and a presentation that is unique in so many ways (and even involves you), it's the kind of game that makes you want to run out and buy a Vita.
5. Super Mario 3D World (Nintendo)
Just when you think the Wii U doesn't have anything to really provide its players, along comes that game you just have to have. Super Mario 3D World is an incredible entry in the series, with an effective new Cat Suit ability, as well as other surprises to discover along the way. With beautiful visuals and a swell multiplayer mode where family and friends can take part, it's a treat for young and old alike. Of course, that means you have to go out and buy a Wii U for it. Ah, well, it's worth it.
4. Grand Theft Auto V (Rockstar Games)
It's been a long time coming, but Grand Theft Auto V has certainly proven to be worth the wait. With miles of terrain to cover, three unique characters that provide a great push in storytelling, and a captivating multiplayer mode that stands out on its own merits, this is easily one of the best in the series to date – and it gives a fond farewell to a generation that we've grown well with over the last few years. Now, how's that Grand Theft Auto VI looking?
3. The Legend of Zelda: A Link Between Worlds (Nintendo)
Leave it to Nintendo to top its own act. After releasing a highly effective port of Wind Waker HD for the Wii U, it comes back with a vengeance with the spiritual sequel to A Link To the Past, one that stands out on every level. With amazing gameplay that introduces a new wall-drawing tactics, exciting action, the return of those mesmerizing dungeons, and a presentation that won't quit, this is the best handheld game you can own right now. If you don't own it, well, something's wrong with you.
2. Bioshock Infinite (2K Games)
Say what you will about its cryptic ending and some of its design choices, but let's be honest – you aren't going to forget about your stay in Columbia anytime soon. With riveting visuals that somehow top the underwater world Bioshock presented, along with fun gameplay and exciting moments galore – the free fall when you first run into Songbird is really something – Bioshock Infinite more than lives up to the hype. Plus, the voicework by Troy Baker and company just hooks you. And we don't mean with that awesome skyhook, though that's a great weapon.
1. The Last of Us (SCEA)
Finally, leave it to Naughty Dog to surprise us all and remind us it's not a one-trick pony. After producing the wonderful Uncharted trilogy, it shakes us to the core with a great survival action game, where two people who don't even relate in the slightest way must work together in order to make it across a ravaged country. With its wondrous storytelling, simple yet majestic music, great voicework (Troy Baker does it again) and solidly built world, it's worth exploring from beginning to end. Plus, it has one of the most heart-breaking intros you're likely to ever see in a game. When something like The Last of Us goes out of its way to make us feel, it's really something – and that's why it's the best of 2013.