The influx of laptops and tablets in the classroom is opening new opportunities for video games in the classroom.
The days of purely teaching students through text books is something that should be found in a History book, or more likely, an online History course or app. The tried-and-true, and ancient, method of teaching through books alone has been forever changed by technology. McGraw-Hill Education has been investing a lot of time, money and research into the 21rst Century classroom and is releasing new educational video games that introduce new ways for kids of all ages to learn everything from politics to Spanish.
The company entered the higher education gaming market last year with the launch of McGraw-Hill Practice, a suite of hands-on, experiential learning games that go much further than any text books or Web sites and attempt to connect with today's gaming generation. Included in the McGraw-Hill Practice suite is Government in Action, the industry's first 3D, multiplayer game for the American Government course, which is taken by more than 750,000 students per year. Government in Action simulates the experience of being a member of the U.S. Congress, allowing college students to apply the concepts and principles they are learning in the classroom by collaborating with and competing against their fellow students to secure political capital and get re-elected. Government in Action and the other games in the McGraw-Hill Practice suite are designed to reinforce learning while increasing engagement, a key element of successful instruction in today's classroom.
Gaming has been one of the most popular trends in education in recent years. While all students have their own unique and preferred learning style, learning by actively engaging with a subject is a learning method shown to appeal to a large number of today's students. Popularized by educational theorist David Kolb and supported by numerous studies, experiential learning has been proven to be one of the most efficient and effective ways to learn difficult or complex concepts. Government in Action, which was built based on the cognitive science behind experiential learning, helps students not only engage with the concepts of their American Government course but apply those concepts in their daily lives and personally understand how the American government actually works.
"With McGraw-Hill Practice and Government in Action, we're incorporating the leading principles of cognitive science and technology in our product development," said Stephen Laster, chief digital officer of McGraw-Hill Education. "By tapping into the way today's students learn most successfully – including real-life simulations and the competitive elements of gaming – we are helping to improve student performance."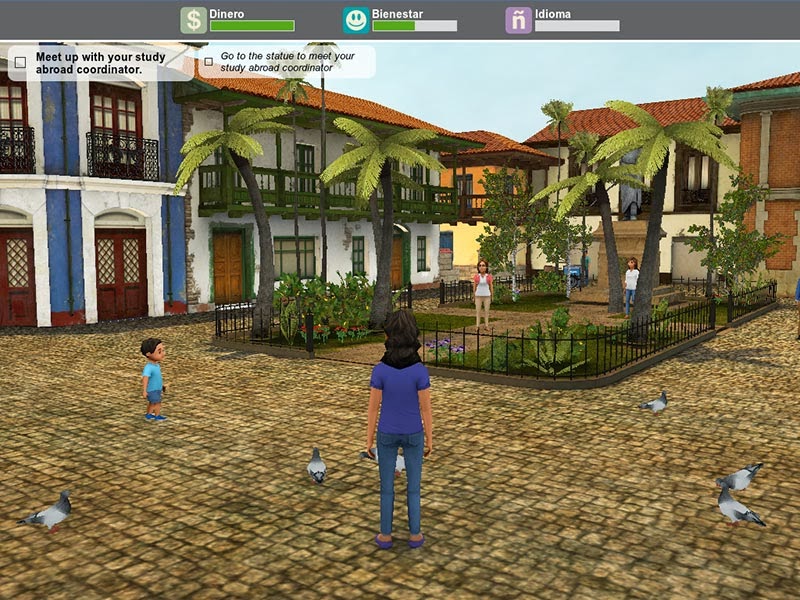 Government in Action allows students to explore the real-world challenges and day-to-day experiences of a member of the U.S. House of Representatives. Students compete and collaborate with classmates to obtain political capital by developing and passing legislation and strategizing political moves, such as seeking co-sponsorship of a bill from a member of the competing party or launching a national media campaign. Players have limited resources to spend, so cooperation with other students is crucial to finding success in the game.
"Government in Action has helped me bring my American Government course to life by creating an engaging environment for students to explore the reality I'm teaching," said Professor Jason Seitz of Georgia Perimeter College. "Government in Action helps my students tie all of the concepts in my course together to develop a deeper understanding and knowledge of the subject. With an engaged classroom, I can spend less time transferring facts and more time exploring implications. Not only has Government in Action made studying American Government more enjoyable for my students, it has made teaching it more fun, too."
The McGraw-Hill Practice suite also includes Practice Marketing and Practice Operations. Practice Marketing is another multiplayer simulation that puts students' marketing skills to the test in a competitive, real-world environment designed to support the Marketing Principles course. Practice Operations brings operations management to life by allowing students to manage operations of a clothing manufacturing and distribution company while reinforcing key concepts that promote critical thinking and strategic decision making.
This year, the company launched Practice Spanish: Study Abroad, the first 3D educational game for PCs and tablets aimed at immersing college students in the Spanish culture. Set in Columbia the game offers a fully realized 3D world filled with avatars that players can interact with in Spanish as they explore the city and smaller towns. The multiplayer Spanish language learning game provides students with a virtual and immersive "study abroad" experience while enabling them to practice Spanish vocabulary, grammar, reading, and conversation. As the company's first foreign language learning game, Practice Spanish builds on the new interactive initiative at the traditional textbook maker.
Craig Gill, executive marketing manager, McGraw-Hill said the game replicates the experience students or tourists would have when visiting a foreign country. Students may be asked to find their classes on campus, plan weekend excursions, buy souvenirs, interact with the fictional host family, and possibly seek medical attention to assist a fellow classmate.
Students can design and personalize their avatar, selecting physical features to their liking, including hairstyle, eye color, and clothing. Students can interact with their fellow classmates from within the game, encouraging students to speak in the target language with their real-world classmates from within the virtual setting. Students will collaborate with each other to complete some Quests.
Gill said they chose Columbia as the locale because it's where the most pure form of Spanish is spoken. Players are able to explore a fictional town inspired by Bogota as they wish, interacting with local merchants and residents who will speak to them in Spanish. The game challenges players to use the keyboard or tablet touchpad to converse with the virtual residents in proper Spanish.
Twelve computer-controlled characters will appear periodically throughout the game. Players will interact with them in conversations to complete each quest. Examples include Paloma, an adventurous study abroad student interested in exploring the city, and David, a shy Canadian study abroad student who's reluctant to use his developing language skills. Additional characters will include host family members and a local study abroad program advisor.
While this game is aimed at beginners, Gill said it can be expanded to include other locales and provide more advanced Spanish immersion. He said the game engine can also be utilized to teach additional languages with other countries as the main locale for cultural interactions.