Smash Bros for the 3DS and Wii U could be just what Doctor Mario ordered to help Nintendo out.
The next installment of Super Smash Bros will be here before you know it and Masahiro Sakurai, Director of the Smash Bros games, brought a lot to the table with the most recent Nintendo Direct. For those who were unaware, this Nintendo Direct was focused squarely on the Super Smash Bros games coming out for the 3DS and Wii U this year. Let's get right into it, seeing as thought there is a lot to cover!
I know one of the main pieces of information I wanted to come away from this Nintendo Direct presentation was the release dates for the 3DS and Wii U versions of Smash Bros. We got that answer, sort of and what I mean by that is the season in which the games will release were revealed. The 3DS version will be coming out in the Summer and the Wii U version will be coming out in the Winter. The Wii U version, if it stays in the Winter slot, could be a hot item this Christmas. There will be some minor differences between the two games such as stages that you can play on, as an example. The 3DS version will have the characters run at 60 frames per second (in 3D) and the assist trophies/Pokemon will run at 30 frames per second. (you know if that sort of info concerns you)
The two games will have the same character lineup so everyone who wants to play as Mega Man on the Wii U and 3DS version can breathe easy. Stages will differ between the two games as well as musical selection. The 3DS will have 2 songs tied to stages and the Wii U version will have the same musical set-up as Brawl did. Each version has some stages that could be considered "veterans" that have appeared in past Smash Bros games as well as new stages that will differ between the two versions.
Stages for the 3DS include: 3D Land and Rainbow Road (Mario), Gerudo Valley and the Spirit Train (Zelda), The Prism Tower (Pokemon), and Jungle Japes (DK) and many more. Stages for the Wii U version include: Mario Galaxy( Mario), Skyloft( Zelda), Town and City( Animal Crossing), Halberd( Kirby), and Windy Hill Zone( Sonic).
Some stages will have Boss encounters and players will be able to attack them and be attacked by them. The main example was the Yellow Devil from Mega Man 2 where the weak point is still the eye and the player who gets the last hit in will be able to use the Devil as a weapon, complete with heavy explosion. There will be other boss enemies to deal with and the presentation showed Ridley from Metroid flying around so we'll just have to wait and see on that one.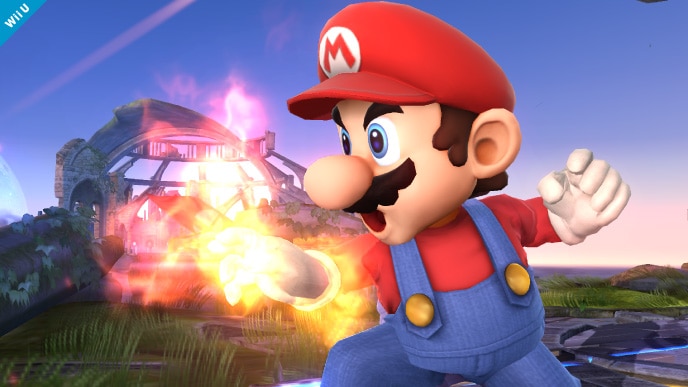 Online play is pretty much par for the course these days in games and Smash Bros (both versions) will have online play. You'll be able to play against your friends as well as random people. Nintendo is striving to have the best online experience possible for their players so a code of conduct is being implemented. Temporary bans from online playing is punishment for disobeying the code of conduct rules, which range from attacking/targeting a single player to frequent starts/no plays or poor online connection. If you report for no reason, you could be punished as well.
An interesting measure to the online play is the online scoring system for Smash Bros. The Global Smash Power rankings take your play from solo mode and the larger the G.S.P. is, the better the player is and how many people you outscore. Another addition to online play are the two modes being added, For Fun and For Glory. For Fun is for playing with friends, random stages( No Final Destination) all items, smash battles, and the only thing kept for the records is wins. For Glory on the other hand, plays only on Final Destination or a stage that is in the Final Destination form, (Guess that's a good way to put it) no items, one on one battles, and wins and losses are recorded. Names will no longer appear but what will appear is your Nintendo Network I.D. so be sure to keep it clean because you don't want Nintendo to ban your whole account.
Items play a key role in battles and the newest Smash Bros keep that tradition and bring in quite a few assist trophies to add to the fun. Items range from old favorites like the beam sword, bumper, to new items like the Fire Bar, the Beetle, Fairy Bottle, and the Rocket Belt. Assist Trophies will add to the crazy battles you can have when they take the form of Chain Chomp, Knuckle Joe, Mother Brain, Elec Man, and many more. It will be interesting to see who didn't make the cut as playable characters and instead are assist trophies.
The Pokemon are back and they brought the Master Ball with them this time which will bring out the rare and powerful Pokemon. If that wasn't enough Pokemon for you, Lucario gets the Mega evolution treatment, and everyone's favorite electric rodent returns! (but you knew that already) Fighters who changed form last game won't be changing this time around but Shiek and Zero Suit Samus are in the game. It will be interesting to see how you can play as these characters in action. Hell, Zero Suit Samus has been powered up by her Jet Boots so when you get to play with her, she will be able to kick some major ass.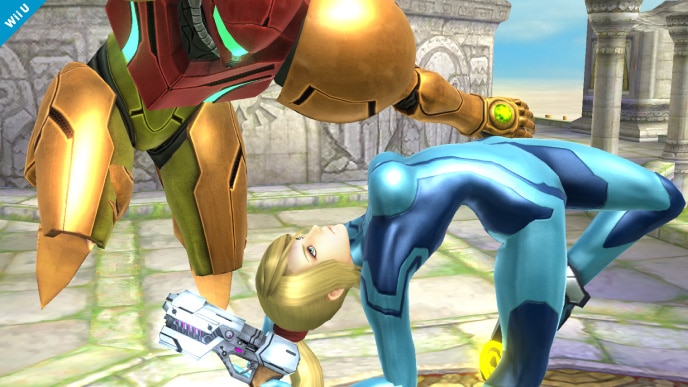 This will be the first Smash Bros that Mega Man gets to be a part of and he is bringing the big guns with him. His attacks cover most of his NES days with attacks like the Hard Knuckle, Top Spin, Spark Shock, and Rush Coil. Mega Man 3 is my favorite Mega Man but he has other attacks from other Mega Man games as well. Another new comer to the fray is Little Mac, who fights with strong punches but is terrible in the air. He also gets a power meter, which fills up when he lands a hit or gets hit. The meter fills up for the K.O. Upper cut, a one hit knock out.
A game mode that will be 3DS version exclusive was mentioned and that is the Smash Run. The game mode can support up to four players and has the players exploring a dungeon for 5 minutes, looking for power-ups to use in the upcoming battle. One more major feature was revealed at the end of the presentation so like in some popular movies, if you left before the end credits, you missed out. Anyway, it was revealed that Pokemon fan favorite Charizard and Kalos region final evolution Greninja will be joining the battle. Now, let me fight with Squirtle again and you might have something there. Looks like this large chuck of information will/should be enough to tide us over until the Summer when the 3DS version comes out!