Surveillance Station was designed to turn any Disk or RackStation into a network video recorder (NVR).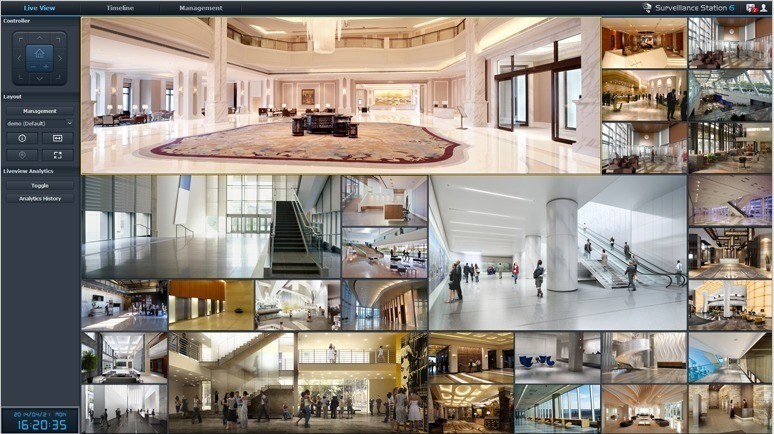 Synology America Corp has launched Surveillance Station 6.3, the winner of the Computex 2014, Best Choice Award in the security category. Surveillance Station was designed to turn any Disk or RackStation into a network video recorder (NVR). Version 6.3 adds advancements in compatibility, failover, and the way video surveillance is accessed for any number of deployments.
Large-scale surveillance in one interface: Onscreen controls have been augmented for joystick usage, and a single display interface can render a 64-channels of Live View or recorded footage; making it easier to monitor multiple targets at the same time.
Cross-Platform NVR: Surveillance Station 6.3 is now unified between Windows and OS X. Now, both operating systems take advantage of the Surveillance Station web-object. With the inclusion of the Safari browser, Surveillance Station has become completely Java-free, resulting in performance boosts of up to six times.
Record without data loss: Edge Recording is new to 6.3. Now, supported cameras can continue to capture video in the event of a network disruption. Once the connection has been restored, Surveillance Station replaces the missing footage in the timeline, eliminating gaps in coverage.
Additional Features
Support for in-camera de-warping
Support for panoramic, and multi-lens cameras with only a single license needed for multiple channels
Customized layout management for increased flexibility
Support for over 2,700 camera models
"Surveillance Station 6.3 shows our continued commitment to make a better NVR solution", said Joshua Wise, Senior Product Specialist at Synology America. "From support for edge recording to removing the Java requirement for our Mac customers to an additional camera license, this release provides improved value and reliability."
Camera Licenses
Two IP camera licenses are included with any Surveillance Station 6.3 installation. Multi-lens, and panoramic cameras only require a single license per unit.
Founded in April of 2000, Synology Inc. is a leader in next-generation Network Attached Storage (NAS) servers for the home and small to medium sized business markets. Specializing in both hardware and software for network attached storage devices; Synology products are feature-rich, easy-to-use, energy-efficient, reliable and affordable. All Synology product investments are enhanced with product warranties, free software upgrades and 24/7 online support.