A full-scale working train serves as the setting for new technology.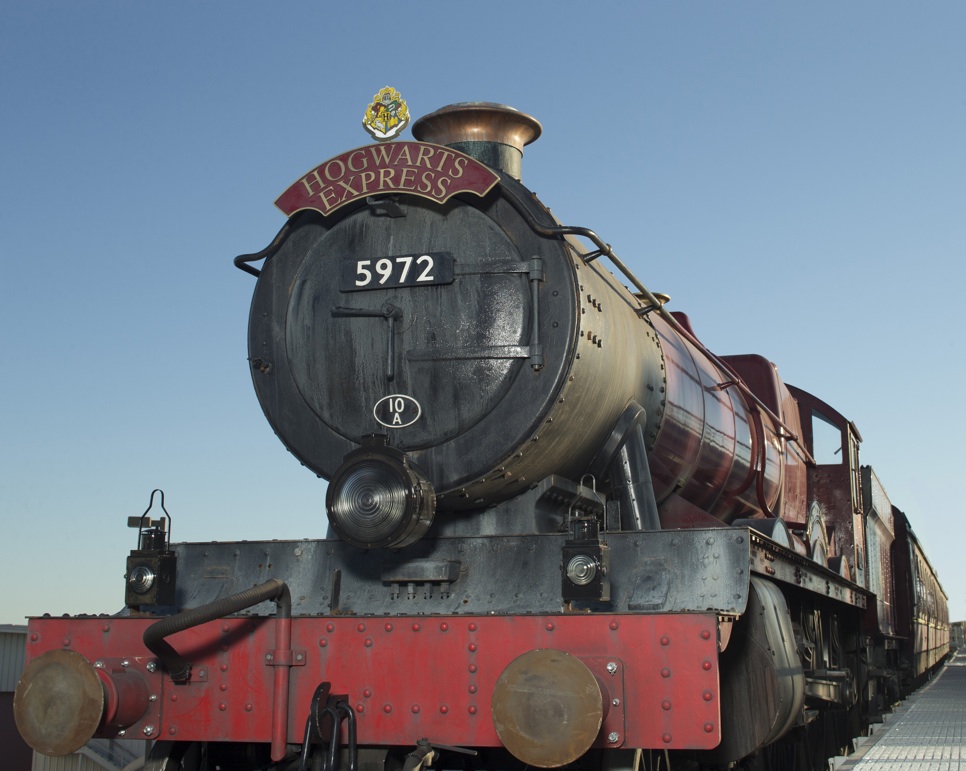 One of the most memorable experiences from the Harry Potter series will come to life at Universal Orlando Resort beginning July 8. The team at Universal Creative has brought the Hogwarts Express to life with a new ride that combines a full-scale train and the latest technology to transport guests between the two Wizarding World of Harry Potter parks.
The line for the ride starts at King's Cross Station. Guests will be transported from the Muggle world to the wizarding world as they pass through the brick wall to arrive at Platform 9 ¾. Once upstairs, the Hogwarts Express pulls into the station – its billowing steam and authentic whistle beckoning you to hop aboard
Sitting in one of the train's cabins with family and friends, guests will be able to ride the Hogwarts Express – just as your favorite characters did in the Harry Potter films. Looking outside their cabin window and enjoying a scenic, breathtaking journey through the British countryside as you encounter magical creatures, some favorite Harry Potter characters…and even Dementors…
Since the very first Harry Potter film, every fan has dreamed of taking the same classic journey Harry Potter did aboard the Hogwarts Express. And now they will get to live it. The train will connect the new land in Universal Studios Florida with The Wizarding World of Harry Potter – Hogsmeade in Islands of Adventure – allowing guests with park-to-park admission to enjoy a real journey aboard the iconic locomotive.
Never before has this been done – creating an actual train ride experience to connect two spectacularly themed environments. The Hogwarts Express experience combines powerful storytelling, live special effects, lifelike animation and state-of-the-art technology to take riders on the journey of a lifetime. Guests will enjoy two completely different experiences depending on whether they're traveling to Hogsmeade or London.
Once seated in the cabin, guests will be able to look out their windows as an incredibly authentic and magical adventure unfolds before them. They'll see Hagrid come alongside the train on his flying motorbike, Buckbeak the Hippogriff swoop gracefully over the black lake, the Weasley twins on brooms and up to their usual antics, the Knight Bus swerving through London traffic – and other special moments and surprises.
Universal's Creative team has been working closely with Warner Bros., Stuart Craig and the production team from the Harry Potter films to create a sensational Hogwarts Express experience that the entire family can enjoy. The Creative team has gone to great lengths to ensure the experience is true to the books and films. Everything about the train is authentic – from the paint and the materials used to build it….all the way down to the whistle.