3 new comics coming soon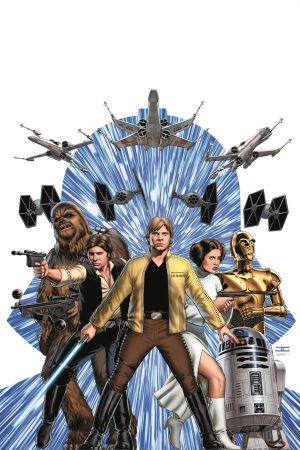 Lucasfilm Ltd. and Marvel Entertainment are extremely proud to announcethe iconic Star Wars franchise will return to Marvel in 2015 with a line-up of three comic book titles chronicling the adventures of a galaxy far, far away. Beginning in January 2015, prepare for STAR WARS by writer Jason Aaron (Thor, Original Sin), artist John Cassaday (Astonishing X-Men) and colorist Laura Martin, DARTH VADER by writer Kieron Gillen and artist Salvador Larroca and PRINCESS LEIA by writer Mark Waid and artist Terry Dodson.
Taking place immediately after the events of Star Wars: A New Hope, the Force returns to Marvel in January with three new series spotlighting beloved characters from the iconic trilogy! Created in close partnership with Lucasfilm, the three new Star Wars series will exist as part of the canon for the Star Wars universe!
It all starts this January when Jason Aaron, John Cassaday and Laura Martin take fans back to the days following the destruction of the first Death Star in STAR WARS! Discussing the flagship series, writer Jason Aaron tells Marvel.com, "Every story is about the characters, and we'll focus on all the old favorites. There will be big moments for everyone, from Han to R2-D2. But a major part of the narrative will be driven by Luke Skywalker and his journey of discovery, a journey that will decide the fate of the entire galaxy."
However, the return of the Rebel Alliance to Marvel Comics also invites the return of its opposition, the Imperial Forces of the Galactic Empire and in February 2015, Kieron Gillen plans to delve into the psyche of one of the vilest villains of all time with the new ongoing series DARTH VADER.Witness the struggle for the freedom of an entire galaxy – from the Dark Side!
Then, in March 2015, Mark Waid & Terry Dodson bring you the harrowing tale of loss and hope in the 5-issue limited series PRINCESS LEIA! Fresh from the Rebel Alliance's victory at the Battle of Yavin, Leia must confront the reality that her homeworld has been destroyed. But in the light of such tragedy, there is always hope. Skilled equally with diplomacy as she is a blaster, witness the rise of one of the greatest heroines in history as she takes her rightful place as one of the Alliance's peerless leaders!
Again, the world of Luke, Han, Chewbacca, Leia and even Vader make their historic return to the House of Ideas beginning next year! Take your first step into a larger world with STAR WARS #1, DARTH VADER #1and PRINCESS LEIA #1in 2015!