Here's a round-up of new headsets perfect for gaming.
With Christmas just around the corner, there are plenty of great gift ideas for the gamer in your life that are good for any time of the year. The launch of next gen consoles like PlayStation 4 and Xbox One have focused, for the most part, on the improved 1080p visuals and lifelike performance-captured story lines of blockbusters like Call of Duty: Advanced Warfighter, Far Cry 4 and Dragon Age: Inquisition. But that's only part of the immersive storytelling experience. Game developers spend a lot of time working on the sound effects for games, while composers are brought in to score interactive soundtracks to bolster the connection players have with these virtual characters. Below are six great options for video game headphones with price points perfect for any budget.
Turtle Beach Elite 800 Premium Wireless Headphones, $300
Designed for Sony's PlayStation 4 and PlayStation 3, these wireless headphones will also work with the Xbox One if you tether it to the controller using the mobile cable and an Xbox One Chat adapter. And they're great for mobile devices, including the PlayStation Vita. Some of the cool features include duel invisible mics for in-game chat, DTS X 7.1 Surround Sound for a 3D 360-degree sound stage, a Footstep preset for stealth games, and 10 hours of rechargeable battery life. These noise cancelling headsets come with Turtle Beach extras, including a magnetic charging stand, two free sets of speaker plates and an Elite t-shirt.
Turtle Beach Ear Force Stealth 500X Wireless Headphones, $200
A slight step down in luxury from the Elite 800, the Stealth 500X were designed for Microsoft's Xbox One. Audiophiles will get wireless DTS X 7.1 Surround Sound for gaming; and a cable allows for connectivity for mobile devices. These headphones last up to 15 hours per charge, offering plenty of time to play online and get a competitive edge. Mic Monitoring ensures interference free wireless audio and chat so teammates playing everything from League of Legends to Call of Duty can strategize on-the-fly. The headphones come with a trio of presets for the perfect configuration of sound for Shooter, Racing, and Sports games.
Astro Gaming A38 Wireless Headphones, $230
These days, people spend a lot of time gaming on mobile devices like smartphones tablets and notebooks. Astro Gaming has designed these wireless headphones for on-the-go gaming. The A38 combines APTX low latency Bluetooth high-fidelity playback and state-of-the-art Active Noise Cancelling technologies to make them perfect for flying, biking or just gaming on a bus or train. One charge lasts over 20 hours, and it only takes five hours for a full charge. One-button talking allows easy access to calls or chat. And connecting to any Bluetooth device is seamless and instant. These are perfect for the active gamer who logs a lot of time away from the console.
Astro Gaming A40 + MixAmp M80, $200
Designed for Microsoft's Xbox One, these wired console headphones look cool and sound great. It's a two-for-one offering, as Astro Gaming has taken their tried-and-true adjustable and lightweight A40s and customized them for the new Xbox One. They've also included the M80 MixAmp, which mounts on the Xbox One controller. The M80 let you adjust your game-to-voice balancing, choosing from three different EQ modes made for gaming and media viewing. These headphones are wired, which I'm not a fan of, especially with the pricing of competitors offering wireless gaming headphones. But Astro Gaming has a huge following and the headphones delivery quality sound. (Astro Gaming offers the A50 wireless headphones for $300.)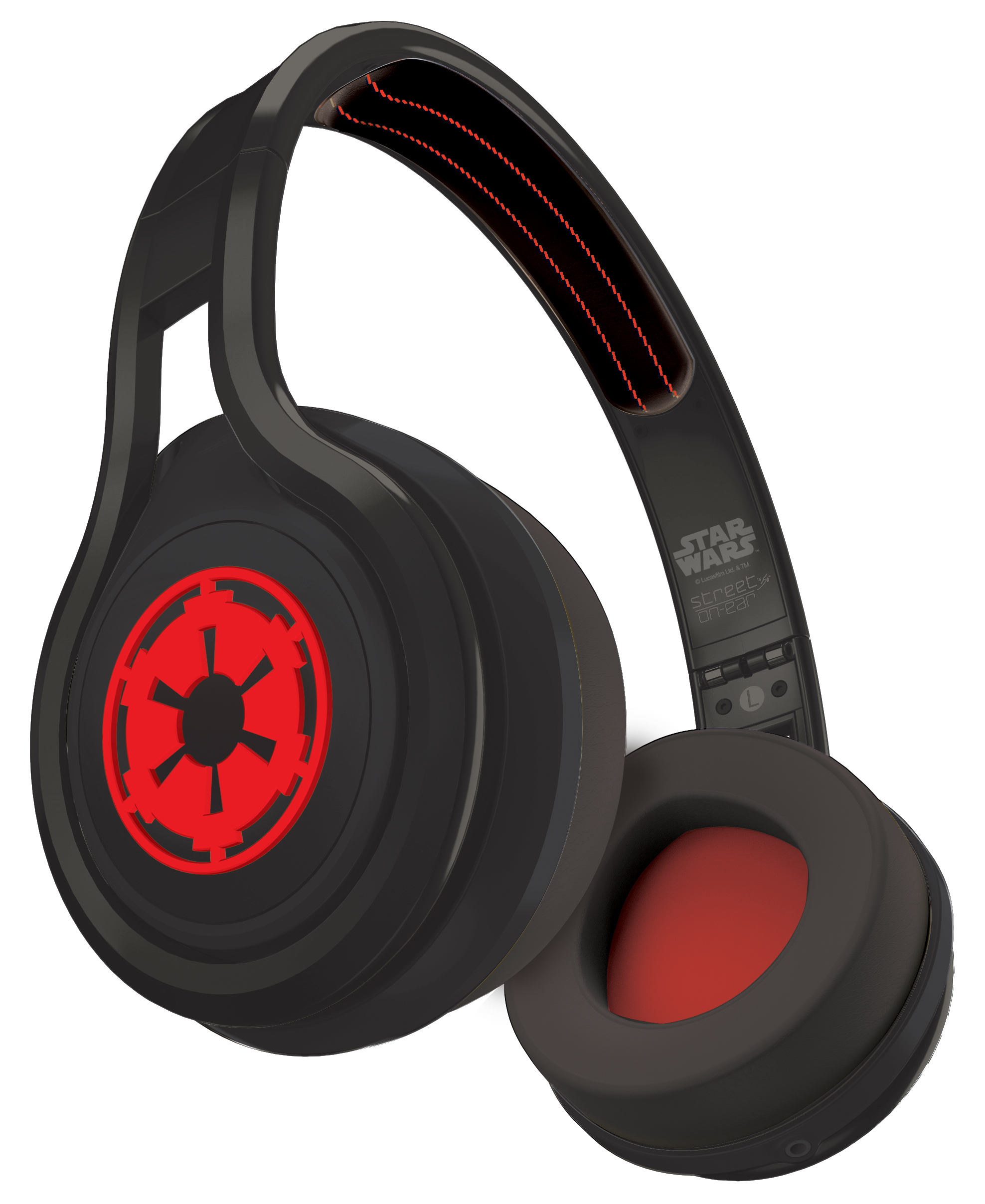 Star Wars First Edition On-Ear Headphones; SMS Audio, $150
Rapper 50 Cent owns SMS Audio, which is one of many competing lifestyle music brands out there. But this is the only one that features the Star Wars license. Fans have a choice of four lightweight and durable headphones -- Stormtrooper, Rebel Alliance, Boba Fett, and Galactic Empire. The leather memory foam headphones each feature a unique character or design straight out of Star Wars. They fold nicely for travel, making them perfect for gaming on the go or wired gaming at home. The red and black Galactic Empire headphones are especially cool from a style perspective, and while they're not wireless or as tricked-out as some of these other headphones; they're definitely cool.
Polk Audio Striker ZX, $90
Polk Audio is known as a high performance audio brand, but they've delivered the most affordable quality gaming headsets out there with the $90 Strike ZX. Featuring Dynamic Balance driver technology, this headset comes bundled with a custom-built, audio tuned wireless adapter that connects from the headset to an Xbox One controller and features new buttons that give users complete control over chat and volume at their finger tips. It also includes retractable, omnidirectional boom mic and a flexible extension cable that adjusts to different lengths and angles, and tucks away when not in use. ProFit Comfort ensures that the cushioned headband with pivoting ear cups will stay comfortable for endurance gaming sessions.