Synology BeyondCloud NAS Solution Review
Synology is known for their easy to use, innovative products and their DiskStation BeyondCloud model BC214se 2300 definitely proves that they're still at the top of their game. The Synology's BeyondCloud models serve as an uncomplicated, personal entertainment center, allowing you to not only organize all of your music, videos and photos but share them with your friends and family as well, effortlessly. Thanks to its TV streaming support and new, impressive model apps, Synology offers you the best way to enjoy a richer, straightforward, multimedia experience.
About BeyondCloud
BeyondCloud incorporates Seagate's reliable NAS drives, the company's award winning NAS, OS along with their most popular applications with are already installed. Considered the best Synology for beginners, BeyondCloud comes with preinstalled hard drives, packages pre-configured, and best of all, to get started only requires minimal setup. In other words, end users saves on time and hassle of choosing disks and executing the installations themselves. Once you add the device to the network you can start storing data, access and share it immediately.
Easy to Install and Use
After we plugged in our unit and turn it on, it took a few short minutes to follow the prompts and complete the setup. The only process that took more time was adding our files to the NAS. The drives were already configured in a Raid 1 so that meant we saved a few hours from initializing the drives ourselves. Synology's QuickConnect, allowed us to avoid the process of creating port forwarding configurations on our routers. QuickConnect does it all and is quite handy to start working with the NAS server remotely. We were able to remotely access our files within a minute after setup.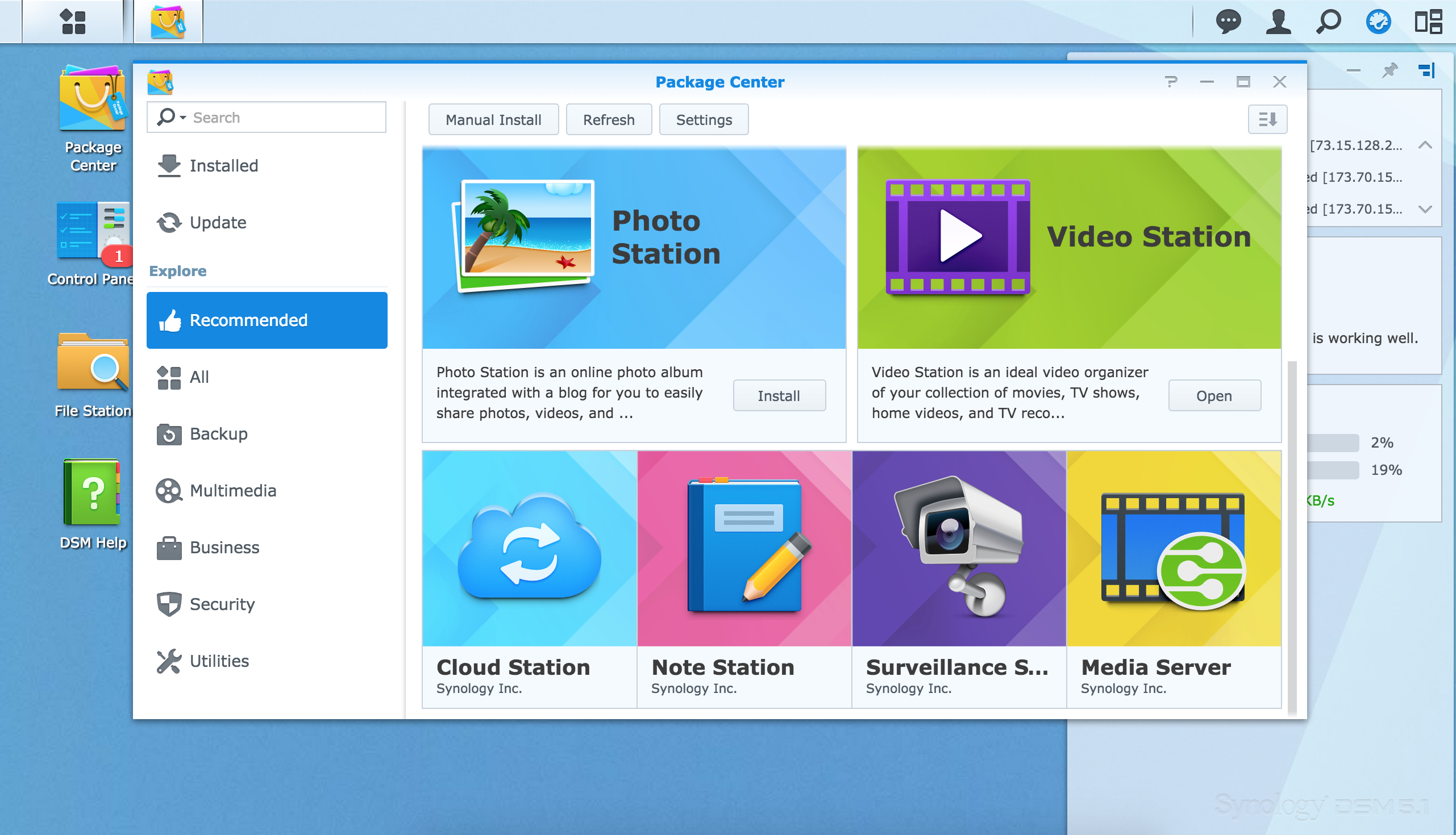 Application Packages
During the installation process, we installed the recommended packages, Audio Station, Note Station, Photo Station, Cloud Station, Media Station, and Video Station. With their sleek, streamlined interface, we were be able to create a flawless entertainment hub with ease. The apps are intelligent enough to quickly assimilate all the files related to its type.
In case you need additional functionality, you can visit the Package Center and browse the entire store.
Ultimate File Center
Synology's user friendly file station is a convenient file explorer for organizing, managing and sharing any files you have stored on the DiskStation. You can upload your files from a MAC or PC by dragging and dropping them into the browser (it just doesn't get much easier) and share with coworkers or friends via their fast sharing tools. Not only is File Station fast, it's secure when it comes to sharing and managing your files. In addition, advanced filters make it easy to search for all your data including videos, photos and documents. With its email clients or built-in FTP, BeyondCloud enable you to organize and share files with the advanced web application with ease. In addition, you can share folders and files by sending a link. HTTPS, SSL/TSL encryption and link expiration and also helps ensure that file sharing online is highly secure.
Cloud Services
Cloud Services completely enhance your experience with the BeyondCloud 2300. The Cloud services enable you to sync all your files in a two-way sync between all the devices within your network. This means having files secured on your PC, Android, computer and more. If you are looking to sync all your files to 3rd party cloud services, the platform also supports data upload to cloud services such as One Drive, Dropbox and other popular Cloud service providers.
With our files securely stored in the BeyondCloud, we were able to share files and enjoy all of our files and media without worrying about monthly fees for additional storage capacity.
Streaming through the Network
Own a Chromecast? You can use it to help stream content from the BeyondCloud to your TV. The idea is simple; load everything on the NAS system and stream over to your favorite device. The central approach simplifies the whole process of watching your favorite videos, audio or photos! The software used in the BeyoundCloud works flawlessly with widescreen TV and streams all the collections with easy-to-use interface.
Apps for Mobile Devices
With Mobile Apps, we can easily monitor or even stream our data over the network. Synology has been active in developing apps for their devices and has come up with some amazing apps for the BeyondCloud 2300. Apps such as DS note, DS audio, DS photo+ changes the way you store and control your favorite media. All these apps utilize QuickConnect technology, which in turn connects the apps to the NAS server without those pesky router configurations.
Pricing
BeyondCloud bundles emphasize convenience and affordability. Having the hard disks pre-installed not only simplified the setup process, it also made the models more affordable than purchasing a diskless NAS Server and compatible hard disk(s) separately.
BeyondCloud models currently retail for:
· BC115j 1200- $179.99
· BC115j 1300- $239.99
· BC214se 2300- $369.99
Wrap Up
BeyondCloud NAS 2300 has tons of features and is targeted at media lovers. The hardware comes pre-installed with the high-performance Seagate hard disk and works flawlessly over the network with the help of the QuickConnect technology. If you are looking for building NAS Server that will also function as Multimedia center, then BeyondCloud 2300 is the perfect choice.