Sling Media Slingbox 500 Review
The Slingbox 500 is a smart TV-enabled box that allows you easily find and record all of your favorite shows to watch on any device, anywhere around the world. You can access it anywhere you go, on any device and have access to all of your favorite shows, movies, and sporting events right in the palm of your hands.
In the box, it came with the Slingbox 500, remote, batteries, IR, power adapter, quick start guide, component cables, network cable, and a HDMI cable.
One of the biggest features of the Slingbox 500 is it gives us the ability to access the content on our cable or satellite box. We often record shows on our DVR but don't necessarily have the time to watch them. With the Slingbox, we can stream the shows to our computers or smartphones whether we're at a hotel or waiting for our flight at the airport. We were able to watch any video coming out of our DVR back at home including live TV.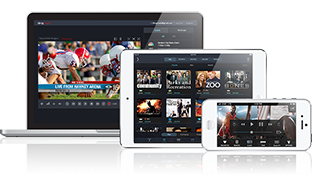 Don't have a smart TV? Not a problem because the Slingbox 500 has the ability to turn your TV at home into a smart TV. You can find shows and your favorite with the use of the on-screen Gallery view. If you are a sports fan you don't ever have to worry about missing a game due to scheduling conflicts because you can watch as many games or matches as you want and keep up with the scores and stats all on one big screen. There's also a YouTube app that comes with recommendations so you can watch it directly on your TV.
Slingbox has five possible selections for video quality ranging from Minimum to Best HD. We've tested the video quality over various internet speeds ranging from 3G over cellular network to commercial T1 all without issue. When casting our shows to a 55" Samsung at the highest quality the video quality was exceptional.
If you have an Apple TV, Chromecast, etc, they can be used as client devices for your Slingbox 500. Rather then paying for TV service at your summer home, you just need high speed internet and a device like Chromecast. Using the SlingPlayer app on your smartphone to access the content from you cable box over the internet, you can play the video on your TV using the Chromecast.
And if this isn't good enough, there are no monthly fees involved at all. Zero. Zilch. Nada.
There is definitely nothing to lose if you decide to purchase the Slingbox 500. It retails at $299.99 with no monthly fees and a 30-day money back guarantee. No other competitor is offering you quite what the Slingbox 500 offers. You can sit on your lunch break and watch a show you missed from the night before or keep up with basketball scores if you are running behind at the office. No matter what your entertainment needs are, the Slingbox 500 has a solution for all of them. Want to explore new shows? The Slingbox will provide you with show recommendations if you want them, so you will never run out of great programs to watch.
It is time for other product manufacturers to stand back and take a good hard look at their competition. The Slingbox 500 could easily change the way we look at TV forever.