See who the best "vide game writers" are!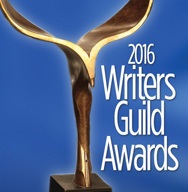 The Writers Guild of America, East (WGAE) and the Writers Guild of America, West (WGAW) have announced nominations for outstanding achievement in writing for videogames during 2015. Winners will be honored at the 2016 Writers Guild Awards on Saturday, February 13, at concurrent ceremonies in New York and Los Angeles.
OUTSTANDING ACHIEVEMENT IN VIDEOGAME WRITING
Assassin's Creed Syndicate, Story by Marc-Alexis Cote, Hugo Giard, Corey May, Jeffrey Yohalem; Narrative Director Corey May; Lead Writer Jeffrey Yohalem; Assistant Narrative Director Melissa MacCoubrey; Scriptwriters Russell Lees, Mark Llabres Hill, James Nadiger, Jared Schincariol, Travis Stout, Ceri Young; Additional Writing Judith Flanders, C.J. Kershner, Gabrielle Shrager, Danny Wallace; Additional Senior Writer Paul Monk; Ubisoft
Pillars of Eternity, Lead Writer Eric Fenstermaker; Writers Carrie Patel, Olivia Veras; Additional Writing Chris Avellone, Jeff Husges, Matt MacLean, Jorge Salgado, Josh Sawyer, George Ziets; Obsidian Entertainment
Rise of the Tomb Raider, Lead Narrative Designer John Stafford; Narrative Designer Cameron Suey; Lead Writer Rhianna Pratchett; Additional Writer Philip Gelatt; Microsoft
The Witcher 3: Wild Hunt, Lead Writer Marcin Blacha; Lead English Writer Borys Pugacz-Muraszkiewicz; Writers Arkadiusz Borowik, Aleksandra Motyka, Bartosz Ochman, Karolina Stachyra, Jakub Szamalek; Additional Writers Marcin Batylda, Michal Galek, Tomasz Marchewka, Robert Oglodzinski, Rafal Praszalek, Artur Sliwinski, Stanislaw Swiecicki, Pawel Zych; Story Marcin Blacha, Jakub Szamalek; CD Projekt
The WGA's Videogame Writing Award honors the best qualifying script from a videogame published in the previous year. To be eligible for WGA consideration, games must have been released between December 1, 2014 and November 30, 2015, and feature on-screen writing credit(s). Credited videogame writers must have been or must have applied to become members of the WGA Videogame Writers Caucus at the time scripts were submitted. Work that was not produced under WGA jurisdiction was also eligible for submission. Judging for the WGA Videogame Writing Award is conducted by panels comprised of Videogame Writers Caucus members and/or Writers Guild members active in videogame writing.
The Writers Guild Awards honor outstanding writing in film, television, new media, videogames, news, radio, promotional, and graphic animation categories. Competitive awards will be presented at both the New York ceremony at the Edison Ballroom and the Los Angeles ceremony at the Hyatt Regency Century Plaza. The New York and Los Angeles ceremonies take place concurrently on February 13, 2016.