Atari Vault Incorporates Contemporary Functionality, Including Steam Global Leaderboards, Multiplayer Capabilities and Full Controller Support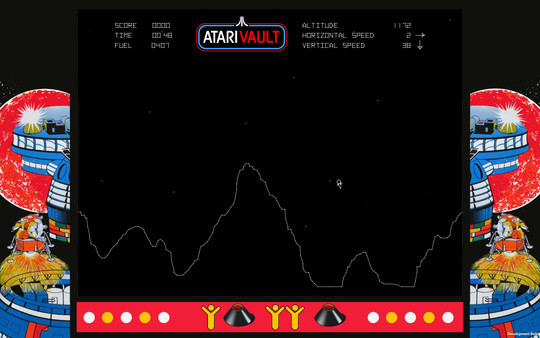 Atari, one of the world's most recognized publishers and producers of interactive entertainment, today announced the launch of Atari Vault, now available for download on Steam for PC. The new title includes a complete collection featuring 100 of the iconic publisher's most popular arcade and Atari 2600 games. For the first time, players can experience these renowned games with the benefit of current technology, including global leaderboards, multiplayer modes, and full controller support. For a glimpse of what players can expect in Atari Vault, check out the launch trailer: http://bit.ly/AtariVaultVideo
With the release of Atari Vault, gamers of all ages can relive – or experience for the first time – the titles that comprise the foundation of the modern gaming industry. Featuring games like Asteroids, Centipede, Missile Command, Tempest, Warlords, and many more, Atari Vault combines the nostalgia of arcades and the Atari 2600 with modern gaming capabilities, including:
Updated UI: A sleek selection menu allows players to easily search through the full collection of games, while preserving the retro feeling of individual titles.
Global Leaderboards: See how scores stack up against players from around the world, in real time! Hold top scores across a multitude of Atari classics to become the master of a whole generation of video games.
Multiplayer Capabilities: For the first time, square off against other players from across the globe for the ultimate test of head-to-head skill in online and local multiplayer.
Full Controller Support: Experience a new level of control playing with your favorite controller. The touch-sensitive trackpad of the Steam Controller mimics the original trackball, providing a new level of control for titles like Centipede and Tempest.
Archive: View interactive galleries that show original, detailed packaging, arcade machines in 3D with 360-degree views, and a wealth of historical press and advertising materials.
"Atari Vault grants convenient access to some of the most memorable titles in gaming history, and in delivering these games in their original state, it is introducing a new generation of gamers to some of the very first video games," said Fred Chesnais, Chief Executive Officer, Atari. "It is our hope that the same excitement people experienced in the arcades and in their homes when these titles were first introduced can now be embraced again, and that newcomers can discover what made these titles so iconic."
Developed by Code Mystics, Atari Vault is discounted 15 percent to $16.99 USD for a limited time on Steam. For more information on Atari Vault, visit AtariVault.com. Join the conversation on Twitter at @Atari or "Like" the Atari Vault Facebook page at https://www.facebook.com/AtariVault.