If you stand the heat, stay out of the kitchen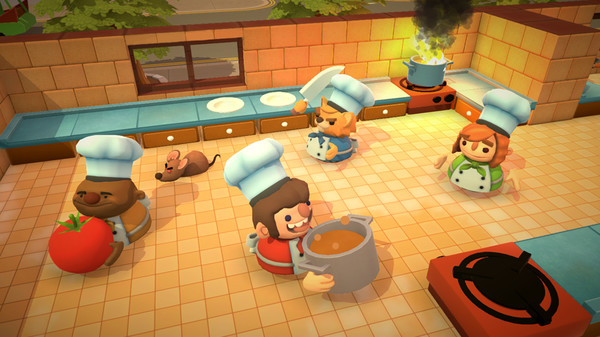 U&I Entertainment, in partnership with Sold Out Sales & Marketing Limited, announced its latest venture with award-winning veteran games developer and international games label, Team17. Together with two-man development team Ghost Town Games, the award winning games label Team17 will soon deliver the retail release for the chaotically fun, cooking simulation game, Overcooked: Gourmet Edition – set to launch globally in Q4 for PS4 and Xbox One.
Bring on a team of up to four players for Overcooked, a fast-paced, couch co-op cooking game. The Onion Kingdom is in danger and only the finest cooking can save it. Players must cook in a variety of bizarre and dynamic kitchens on their quest to become master chefs capable of conquering an ancient edible evil which plagues the land.
Working as a team, chefs must prepare, cook and serve up an assortment of scrumptious orders before cranky paying customers storm out in a huff. Sharpen those knives and dust off those chef's whites, there isn't 'mushroom' for error and the 'steaks' are high in these crazy kitchens.
Play solo or engage in classic, chaotic couch co-op for up to four players in both co-operative and competitive challenge modes. You'll have to cook a range of different dishes and work together in order to become the most effective and ultimate team!
Overcooked features include:
28 standard campaign levels plus an additional introductory level and final boss to conquer!
Local co-op play for 1 to 4 players across all campaign levels!
9 versus levels to go head to head locally with either 2 or 4 players
A range of different and unusual kitchens to play across with different recipes to master, cook soup, burritos, burgers and fish and chips
14 different chefs to play as!
Split pad controls! Play with two people sharing the same controller
11 achievements/trophies to cook up
Additional content for the GourmetEdition will include:
6 brand new levels featuring an all new theme
6 brand new chefs to unlock including the Dinosaur, Robot, French Bulldog, Panda, Bear and Pig