Is the latest installment in the Assassian Creed series more of the same? Find out in our review.
Stealth, speed, and story. These are three words that are synonymous with the Assassin's Creed series. With the franchise now in its fifth installment, and at risk of becoming stagnant and boring, Ubisoft introduces us to another ancestor of main character Desmond and tackles a new period in history, the American Revolution. Does Assassin's Creed 3 give us a reason to climb back into the animus? Find out in our review.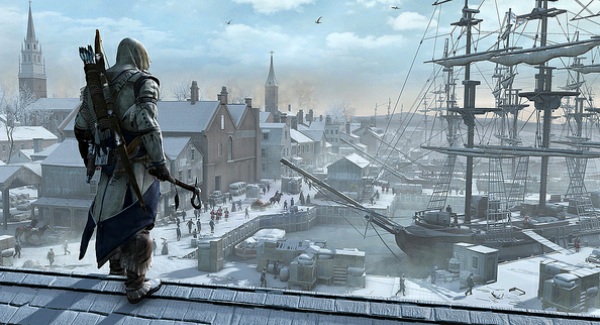 Ubisoft recreated colonial Boston with amazing detail.
The majority of Assassin's Creed 3 takes place in colonial Boston during the American Revolution. The setting of this game is meticulously beautiful. The team at Ubisoft Montreal focused on creating the most accurate representation of Boston in the 1700's as possible. The streets are alive with shopkeepers, town criers, and marching Red Coats complete with field drummers to announce their arrival. Residents respond to your movements and the more you interact with the world, the more active world becomes.