Is the journey to becoming the Shogun of the Dead worth the download? Find out in our review!
The dreams of becoming a Shogun Warrior were shared by many men on the battlefields of Japan. Once the smoke is settled and the blood begins to dry, General Akamoto is ready to take the mantel. On the eve of his final battle to become a Shogun, he is betrayed, murdered, and is thrusted into the afterlife. It is here where players take control General Akamoto battle for supremacy through the afterlife. This turn based game has an interesting set-up, but is it worth your download? Find out in our review!
Grow your army and conquer the Four Seasons of the Afterlife.
The presentation of Skulls of the Shogun is interesting. The story is told through beautifully animated cut scenes. The hand drawn art style is refreshing and allows for the humor in the game to shine through. The color palate of the environements reflect the season that they represent. The environments range from desolate moutain ranges to lush and vibrant forrest. No matter which environment you are in, the colors used allows for the colors of the warriors on screen to pop and stand out. The attack animations are also colorful and add to the overall presentation of the game. Skulls of the Shogun defintiley has a distinct artstyle that allows it to stand out form the pack in a very unique way.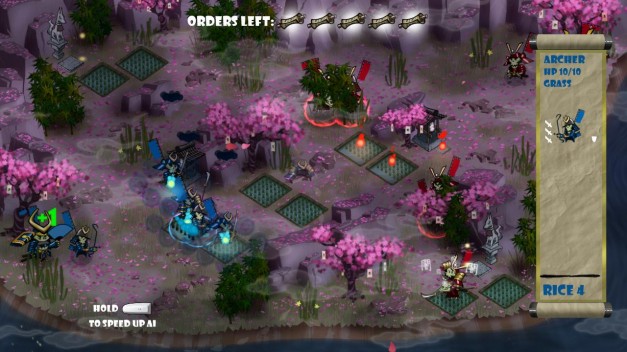 The environments range from desolate mountain ranges to lush forests.