There are so many better shooters to play than this one.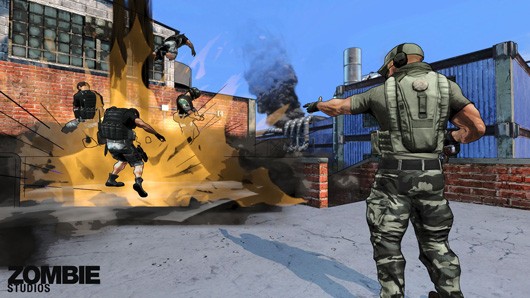 The Xbox 360 didn't really have a shortage of online first-person shooters, no matter what you're into. Futuristic? Halo 4 and Section 8: Prejudice easily have you covered. Off the wall? Borderlands 2, boom. And don't even get me started on the pile of stuff you can do in Call of Duty: Black Ops II, especially with the new map pack.
Still, Zombie Studios is attempting to make a dent in the multiplayer action department with its latest Xbox Live Arcade release Special Forces: Team X. From the first appearance of the characters, you can tell you're in for something generic, as none of them really stand out. You can play as attitude-laden bearded dude or gruff clean-shaven dude, or any of their friends. A lack of character is easily noticeable here.
Thankfully, Zombie Studios does focus a bit on what's important – the shooting action. The game offers a variety of maps to choose from, with both interior and exterior locations and plenty of wide-open space to cap someone from afar. However, there's also something "been here, done that" relating to the maps, as none of them are quite memorable or even worth learning. The only thing that truly stands out is cover points, and even then, there's a problem.
That's where the sticky gameplay comes in. About half the time, the cover system is useful, as you can avoid bullets and line up someone for either a pop-out concentrated shot or a quick fire. But, like I said, that's half the time. The other half, you're wandering in the wide open because the cover doesn't take effectively – and then getting killed as a result.