Missing the return of this show would be a huge mistake.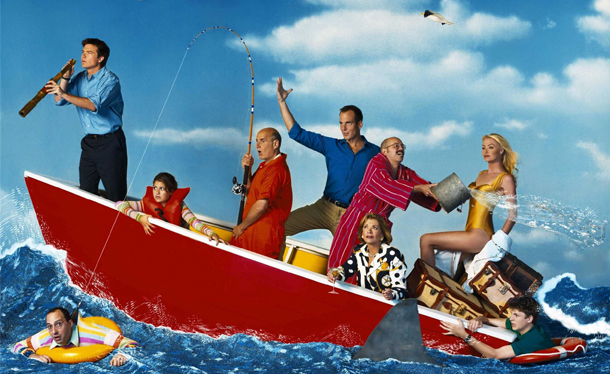 Stupid Fox. Just when you think the network would find a show that would develop a cult audience, it pulls the rug from underneath it, failing to see the potential behind it. It's done this with the likes of Action! and Firefly, but perhaps the biggest casualty is Arrested Development, a series that ran from 2003-2006 under the watchful eye of creator Mitchell Hurwitz and his crew.
Featuring a dazzlingly original group of characters, a number of key jokes (anywhere from the infamous Captain Hook school play to "I've made a huge mistake"), and the cast and writers to back it up, the show went on for three seasons before Fox pulled the plug. Netflix, seeing a key opportunity to boost its original programming fare, vowed to bring the show back two years ago, with almost everyone intact – though, due to filming schedules, the entire cast wouldn't be in the same place at the same time. But no worries, there's a work-around for season 4 – and the show clicks just fine.
With Season 4, episodes focus on individual characters this time around, ranging from Michael (Jason Bateman) and Lindsey (Portia de Rossi) to more oddball types like Gob (Will Arnett) and Tobias (David Cross). Each one has their own perspective, all tying in to a huge Mexican festival before Cinco de Mayo.
This new format may throw off folks who expect Tobias to make puns in every one, and, yeah, some jokes do hit brick walls on occasion. But it still retains a good amount of its genius, not only with its main cast, but with a variety of guest stars, old and new alike. Seeing Terry Crews (as Herbert Love) and Ben Stiller (as Tony Wonder) back in action never gets old, and, of course, we need some Bob Loblaw (Scott Baio) and Barry Zuckercorn (Henry Winkler) for good measure.