It's not for everyone, but fans of import shooters will definitely want to give it a download.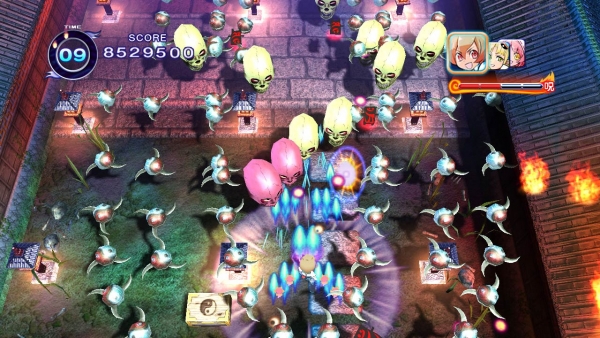 There's a growing market out there for import shooters. I can think of quite a few people – myself included – that would pursue any given region-free Cave shooter just to add to my collection. Heck, one time I even paid $100 for a special edition of Dodonpachi Resurrection, even though I could pretty much get the same game on iPad for $10. Sometimes it's just about being "hardcore" about the genre.
That's the kind of crowd that will appreciate Mamorukun Curse!, a game being released today on PSN by UFO Interactive. Originally released in Japan in 2009 as Mamoru-kun wa Norowarete Shimatta!: Meikai Katsugeki Wide Han (you can see where the name change came in), Curse calls upon you to use recently killed people to fight back against an evil entity, which comes to life in a number of ghastly forms.
You have your traditional shooting abilities, which can be controlled using the right analog stick for direction and such; as well as a Curse Shot, which you can use to protect yourself from incoming fire while also showing down enemies. It takes a bit to get used to this ability, but it's quite useful once the bullets start flying – especially on a higher difficulty setting.
While the gameplay is slightly repetitive – that's the way it usually is for a shmup – Mamorukun has enough style to go around. The overly cute visuals may be a bit too saccharine based for some, but they're efficient when it comes to enemy and level design. The boss battles in particular are noteworthy, because they simply will not give up without a fight. Since it is an older shooter, slowdown can occasionally set in, but not enough to throw off your performance in battle. In fact, slowdown may be appreciated by those looking for those open gaps of gunfire to get through.