James Silva returns with a loving nod of the cap to the old-school brawler.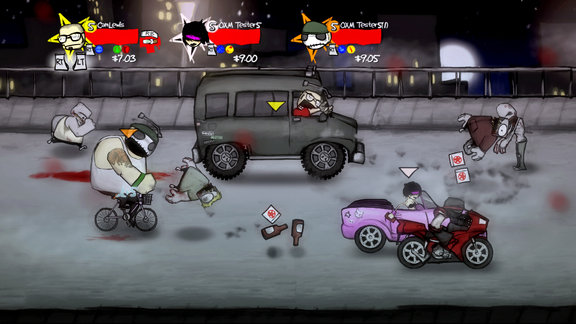 Remember classic arcade beat-em-ups? Sure, you do. If you didn't go to the arcades and plunk down quarter after quarter to beat bosses with your friends, then surely you downloaded Teenage Mutant Ninja Turtles: The Arcade Game for Xbox Live, or The Simpsons Arcade and X-Men The Arcade Game upon their release. There's a lot of beat-em-up love there, and James Silva, the creator of the Dishwasher games, understands this.
You can tell in every ounce of Charlie Murder, an inspired and gruff beat-em-up that pays tribute to these games of old, while carving out its own little niche of madness. It's really quite something, and one of the better sleeper hits of the year in my book.
The game focuses on a group of rockers, led by Charlie Murder, who find themselves in the midst of chaos with a pending apocalypse. After (barely) escaping hell, the team puts up with all sorts of trouble, from rampaging zombies to rock gods looking to leave their mark in their hides. They have several beat-em-up tactics available, along with weapons, ranging from zombie heads to traditional weapons, to lob at foes. It's a simple system, but a wonderfully operating one.