Hit 3DS game available as a digital download on the eShop.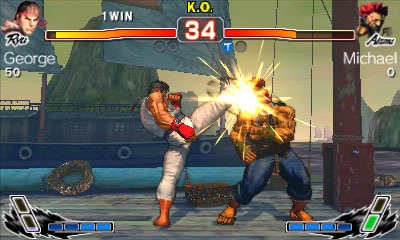 Super Street Fighter 4 3D Edition was one of the gems at the launch of the Nintendo 3DS. The launch window for the 3DS wasn't the greatest but Street Fighter 4 3D was one of the bright spots. The game was received so well that it recently was brought to the Nintendo eShop as a digital download for 20 bucks. Now, I know what your thinking, "Is the game worth my time?" just keep reading and decide for yourself!
Let me start out by saying that I was a Mortal Kombat fan growing up and wasn't a huge fan of Street Fighter. The two franchises were different in their own way, and that's a good thing. Street Fighter 4 3D Edition brings back the best of the past and brings the series into modern times. The game has many modes to try out but that's to be expected from a fighting game.
Arcade, VS, Online, and Training are just some of the modes to master while playing through. Arcade mode is a basic play through to fight as many fights as possible. Fans of classic fighting games will get a kick out of the classic Arcade mode. The 3D is fantastic, especially when fighting Seth. During the end battle, he throws you into the screen, similar to fighting the Foot Soldiers in Turtles in Time. Another extra that was added for the game was anime cut scenes and the characters have dialogue, which isn't usually the norm for Nintendo games. The cut scenes give back-story and would be a great feature to Nintendo games if more games had actual dialogue for their characters to speak