Despite some promising aspects, the game fails to deliver on fun or performance.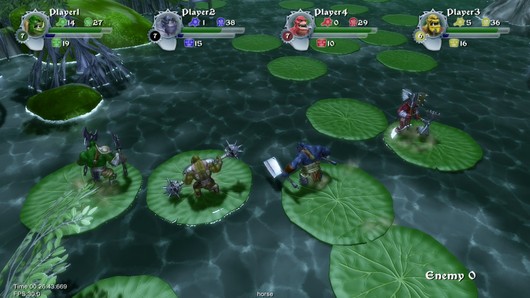 Done the right way, farts and belches in a video game can do some good. Yes, I'm serious with that statement, because, come on. At one point or another we've let out a good belch or let loose with an unexpected fart in an elevator that we blamed on an old person. (No, really. It was him.) Anyway, case in point – Boogerman. Here was a game that could deliver flatulence and gross moves into an ingenious formula. It'll be good to have him back if that Kickstarter takes off.
Now, when flatulence is done wrong – or just inputted into a game formula with other problems – it just isn't pretty. This is the case with GameMill Entertainment's Orc Attack: Flatulent Rebellion, a game that tries to take the Dynasty Warriors formula and mix it up a little with diverse level design and, as you might expect, lots of stinkiness from the "heroes" themselves. Unfortunately, it just never rises to the occasion, due to a number of technical problems and lack of enjoyment.
The game features four different Orc characters – don't call them ninja turtles – as they battle against hordes of human enemies roaming across the land. They have various weapons they can use to take them out, starting with clubs and eventually getting into sharper weapons like axes. These are effective, and with a quick stop in the shop, you can level up and get even stronger with a few new moves and combos. It's an interesting combat system, though, like most games of this nature, too repetitive for its own good.