There is fun to be had here, but limitations and frustrating controls fail to make this a contender.
Since we have another Winter Olympics coming up – taking place in Sochi 2014 and promising to bring a number of snowbound athletes out of the woodwork – it was only a matter of time before we got another Mario and Sonic collaboration to go with it.
Ever since their fateful team-up a few years ago, Mario and Sonic have been faring quite well with the sporting crowd, with a number of Olympic efforts that introduced their universes to real-life activities. They've been good, but as of late, the series has been running around the same circles, almost to the point that it feels like monotony is setting in. Sadly, that's definitely the case with Mario & Sonic At the Sochi 2014 Olympic Winter Games. Where Sega attempts to innovate with its design, it ends up dragging its feet instead.
In concept, Sochi 2014 sounds cool. This is the first time the series is appearing on the Wii U, after all, and that presents a number of opportunities, especially with its online play and the ability to make the graphics look better than ever. Sega does take advantage of both of these, but also adds an abundant amount of new frustrations that hold it back.
The game features a combination of real and Dream Events, including snowboarding, hockey, bobsledding, biathlon, curling, skiing, skating, and other activities. Some are questionable in their inclusion, like speed skating, which gets a little old after time, while others, like hockey, aren't nearly explored enough. This feels like it would be a great game in its own right, released separately from the Olympic pack. Mario Puck Slappers has a nice ring to it.
Where Sega screws up is with the controls. You don't see any sort of logical functionality for certain events, which either require you to shake a GamePad like crazy or use a supplementary Wii Remote Plus to take control of the action. Couldn't Sega have included an option for general GamePad controls? Did it have to get all gimmicky with it? It ruins most of the activities as a result, especially snowboarding. It's pretty hard to screw up something as simple as that, but it managed to do it.
Some activities still work well. Hockey is a lot of fun, and bobsledding has some innovation to it, using both the TV screen and second-screen to provide an in-depth look at the action. Otherwise, the game goes out of its way to feel inconvenient to the player, rather than involve them.
The Dream Events are okay, but hardly what you'd consider, well, "dream"-y. You've got Grove Pipe Snowboarding, Roller Coaster Bobsleigh, Hole-In-One Curling and Bullet Bill Sledge Race, which are the best of the bunch. Even then, after a few plays, you'll get tired of the frustrating control set-up and want to move on to something else.
Sega also listened to the fans and included online play, but it's incredibly limited. You're only able to play in a number of events, mostly the Dream ones, instead of opening up the entire experience. C'mon. Even London 2012, Sega's super-serious Olympic sim, had online play across the board. Don't tell me they couldn't have opened it up here.
It's a shame Sega couldn't figure out how to get the controls or online play working properly, because everything else seems about in place. The graphics have never looked better for the series, even if the design of some events seems downright familiar to those who have played prior games in the series. The sound is about right, with the kind of hip music you hear in crossovers like this, and plenty of character effects.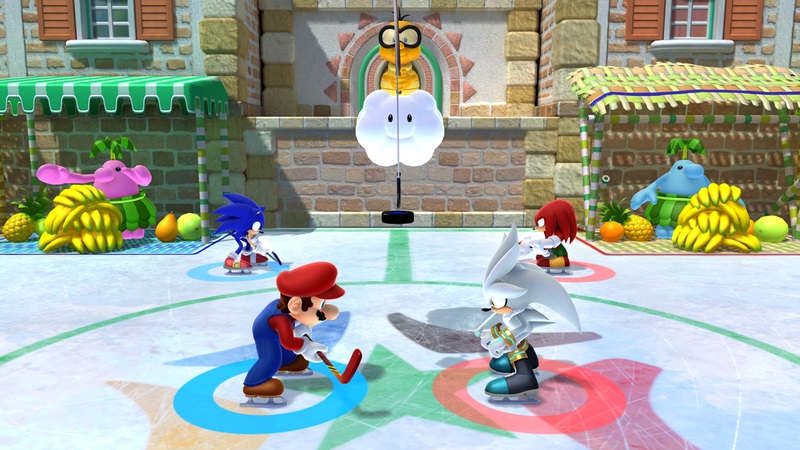 It's hard to tell if Sega did too much or not enough with the controls, but they really bring down Mario & Sonic At the Sochi 2014 Olympic Winter Games. It just mostly feels like a mess, though there is fun to be found sporadically with a couple of events. I just wish it was better realized with optional control schemes, more imaginative Dream Events, and most importantly, online play across the board. Without all of this, it just feels like a competitive has-been, rather than the champion that players deserve.
RATING: 4.5 (out of 10)
(Review code provided by publisher.)
Score: 4.5 / 10