Despite some decent action, Kalypso's gothic tale is sucked dry of fun.
I think I've had my fair share of vampires in video games, thanks. Nothing, and I do mean nothing, will beat the epic scope of what Castlevania has been covering. And yes, I say covering because Mirror of Fate HD, which I previously reviewed, and the upcoming Lords of Shadow 2 still have a lot to add to the tale.
So it pains me to see a developer try and match said scope and fall so short because of a story and characters that didn't matter. That's exactly what happens with Blood Knights, a game that delivers a decent amount of action, but never finds the necessary backbone needed to stand on its own. Instead, it just limps along, hardly the game it could've been.
In the game, you play with two different characters – Jeremy and Alysa. Jeremy is a natural born vampire hunter, destined to clear away the evil for a holy order. Meanwhile, Alysa, who inexplicably stays alive throughout the tale, serves as a secondary partner, using her arrows to fend off enemies from a distance.
The mixture of up-close combat and long-range techniques do make for some interesting gameplay, though, honestly, there's hardly any evolution worth talking about. While the controls are decent, the combat remains generally the same. There's also the ability to upgrade to new weapons, but the challenge is taken out of it. Instead of properly leveling up or even earning them by completing missions, they're just handed to you. Some people may prefer this, but it makes the game far too easy.
Blood Knights' main problem is that there's hardly anything worth sticking around for. Sure, the combat isn't horrible, but it's repetitive, and since there are no real story twists worth sticking around for – it's like melodrama that somehow sinks beneath what the new Dark Shadows movie offered – you'll only go for so long before you feel like something is seriously dragging. Furthermore, the game comes to a close without even finding the opportunity to become good. It just…ends. Maybe that's for the best – some people may not even have the patience to make it that far.
The lukewarm presentation doesn't help either. The graphics are muddy and, sometimes, hard to comprehend, especially when it comes to some of the complex platforming and puzzles you'll need to solve. The cinemas also look slipshod, and offer conversation alternatives that don't really have an effect on the story. If that's the case, why even include them?
The voice acting is also horrendous. We're talking worse than whatever Keanu Reeves was trying to do in Bram Stoker's Dracula. (No hard feelings, Keanu -- you still rocked it in Man of Tai Chi.) No one even tries to sound convincing, which is a huge problem. That's too bad, because the music is actually very good, rather fitting with the theme of the game.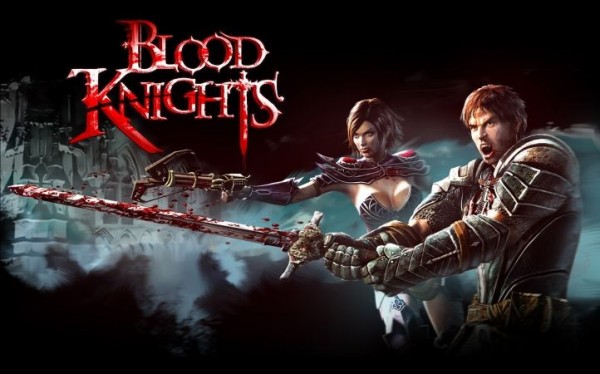 Had the developers at Deck 13 actually put forth more of an effort into the presentation, gameplay power-ups and, oh, I dunno, story, Blood Knights could've easily stood with the best of them. As it stands, though, it's worth trying once – at best – before going back to the games that matter. You know, like Castlevania.
RATING: 4.5 (out of 10)
(Review code provided by publisher.)
Score: 4.5 / 10