The series is a little older in age, but still a fun ride.
Ever since its "rebirth" with Call of Duty 4: Modern Warfare, Activision has been supporting the first-person shooter series like crazy, with yearly releases, downloadable content releases, and a combination of single player and multiplayer that suits various audiences. The trend continues with this year's Ghosts, a game that does show a bit of strain when it comes to staying "fresh," but still maintains the status quo enough that fans will like what they see.
The campaign mode is probably the weakest part of the game, revolving around a father's two military sons who go hunting for a mysterious man that's causing worldwide chaos. In the midst of the ordeal, they run into the Ghosts, masked soldiers who act silently, as if, well, they were ghosts. (Hence the name.) Along the way, they'll have situations that take them all over the world – underwater, on a speeding train, and even down the side of the building. At one point, the game even takes place in outer space. Oh, hi, Gravity.
While the story isn't the most logical, it does hum along as needed, and the scenarios are exciting to play out. Even the dog – a controversial addition to the series since his introduction earlier this year – has his moments. After all, how often do you see a military mutt take down six guys in a row by ripping out their necks?
At least the presentation remains smooth throughout. While the next-gen games will no doubt perform better, the current-gen releases are fairly good, with a speedy frame rate (even during the most hectic of scenarios), great lighting and strong animations. It also doesn't lose a beat in visual excitement, though at times it can be overwhelming, like when you're hit from behind by a guy you didn't even see. Thanks, dude.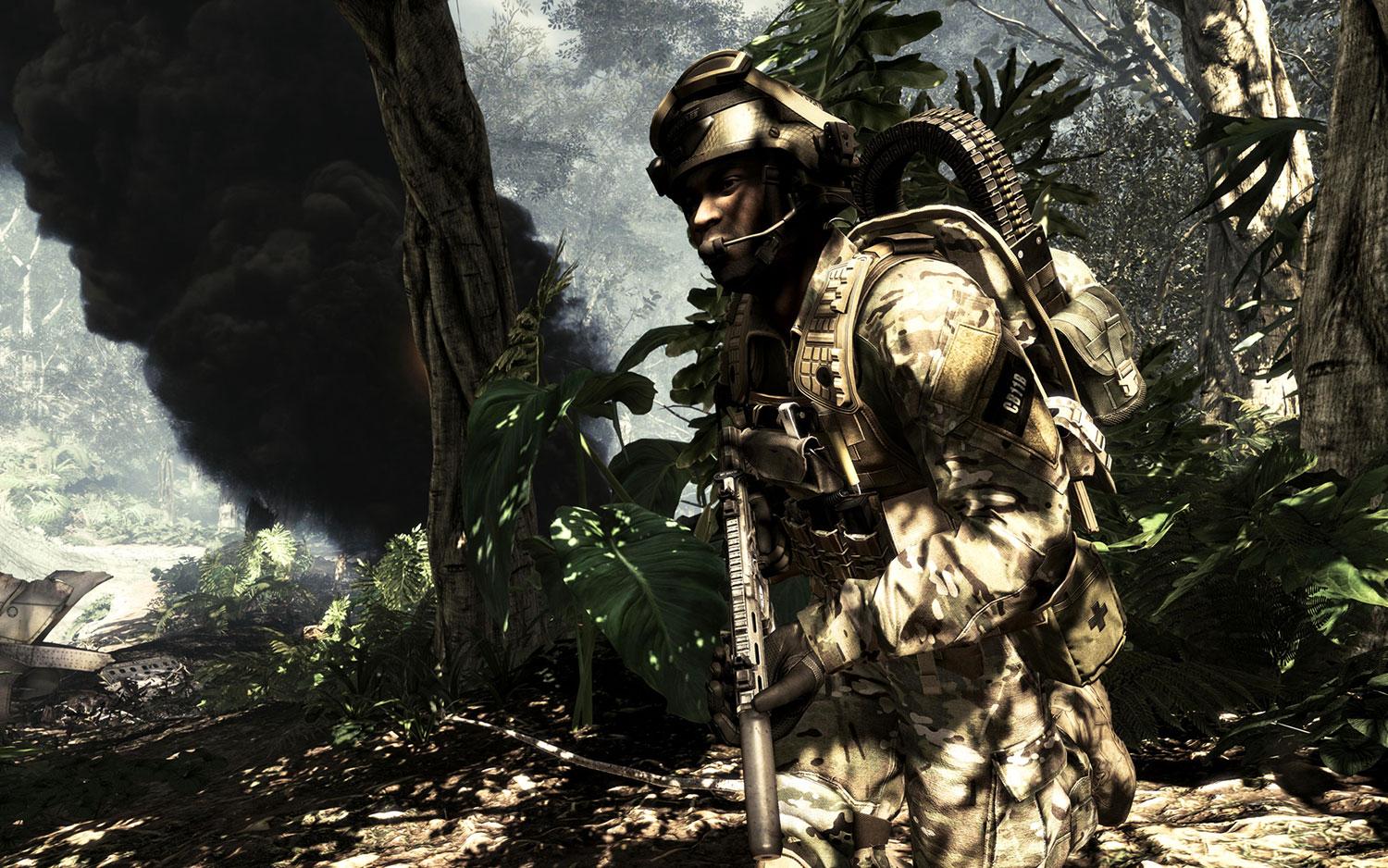 The audio also gets a little boost thanks to the voice acting of Stephen Lang, who appeared as the gruff commando in Avatar. He delivers a similar tone to his character here, leading the way for the other voice actors. They're okay, but his presence is certainly a welcome one. The music is good, too, though very, um, Call of Duty-ish, if that's a term.
As for the controls, they're quite good. The slides are a great new tactic that you'll use over the course of the game, and the mounted weapons are awesome as always. Controlling the dog can be a little weird – especially by…tablet?! – but overall it plays just as good as previous games. I just wish it took a few more chances, and not just in level design. For instance, how about custom melee kills?
After you're done with campaign (and view the ending that's eerily familiar to Modern Warfare 2), you can hop right into multiplayer, which is as smooth as it's ever been. The flow of matches is a slight bit smoother thanks to your new abilities, as well as "trigger events" that can change a map's design in an instant. It keeps you on your toes, though some will complain about spotty collision detection here and there. Like how one shot in the leg brings down a soldier to his death. Yeah, that. (Oh, and it's great to see female characters in here finally.)
Multiplayer also offers a lot of variety, with various modes and 12-player support. The best ones to talk about, though, are Cranked and Extinction. Cranked is an exciting mode where you have 30 seconds to get kills or else you get bumped off yourself. It's great to see all these folks run kamikaze, just for the sake of staying alive. As for Extinction, it's a great replacement for the Zombies mode, where you take on aliens and try to shut down generators. It's certainly more exciting, that's for sure.
So just enough has changed with Ghosts to give it a recommendation, yet familiarity remains. With Destiny set to arrive next year, maybe this will be an opportunity for Activision to plan things out a little bit and give Call of Duty that shot of creative adrenaline it needs. For now, there's enough goodcontent to keep fans of the series busy, and maybe even bring a few new ones on board as well.
RATING: 8 (out of 10)
(Review copy provided by Activision.)
Score: 8 / 10