The multiplayer will definitely hook you more than the single-player campaign.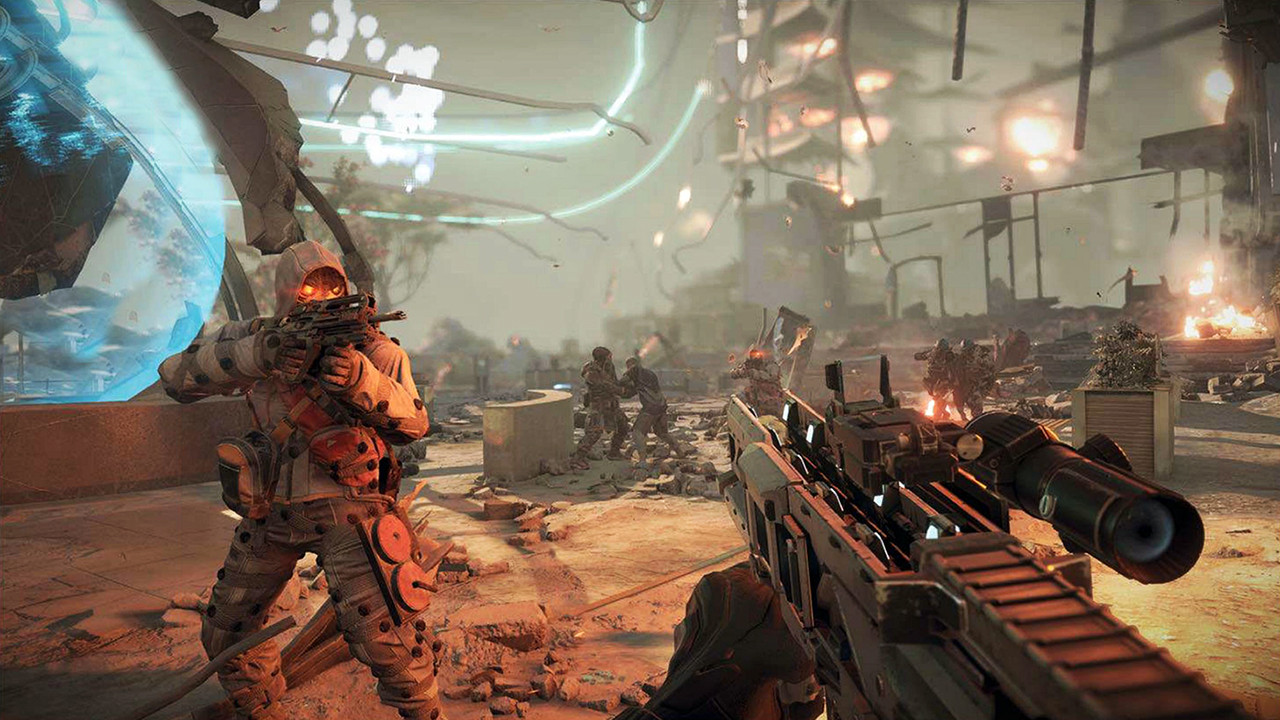 A lot of hoopla has gone into Guerrilla Games' Killzone: Shadow Fall, the latest in Sony's premiere first-person shooting series. It needed it, too, because I considered Killzone 3 one of the true high points in the series, with its in-depth design and killer gameplay. Killzone: Mercenary has done well in its own right as well, giving the PS Vita the first-person shooter it deserve.
However, compared to those two, Shadow Fall does fall by the wayside a little bit. It's slightly less than the sum of its parts, mainly due to a single-player campaign that's lacking in terms of general excitement. That said, it's still a well-rounded package, and a suitable pick-up for the PlayStation 4 if you're up for a first-person shooter that gives you plenty to do.
The game's story focuses on the battle between Vekta and the Helghast. With their home planet destroyed, the enemy force has no choice but to reside in peace with the Vektans – though it's a choice that doesn't come easy. Casualties are rising, and there's word that a revolt might be happening. You, as a soldier thrust into battle by personal choice – those dirty Helghans wiped out your dad – have to head in and clean house while dealing with a few less-tnan-pleased adversaries.
Generally, the story falls into sci-fi hokum quite a bit, just a level above what you might expect from something like, say, Starship Troopers – but without the appeal of the bugs. That said, the single player campaign is worth completing, if only to find all the hidden goodies, like the Intel files. You also get an interesting companion with the O.W.L., a drone that serves a multitude of purposes. He can shield you when your energy is low, shoot enemies from afar, or serve as a grappling hook if, you know, you don't feel like walking. Lazy bum.
There are some slight problems with the single player campaign design, mainly with the open world stages. While Guerrilla is to be commended for its work on the PS4, it's a little too big, and takes a while to get to objective points. Okay, I take back that lazy bum comment. You've got work to do, kids.
I'm not too fond about the stealth and "non-shooter" missions either. It's one thing to be wandering around, but to not have any sort of defense? In the intro, I understand – you're a kid, sure. But some other parts of the game drag, especially if you suck at stealth. At least the entertaining vehicular stages make up for it. I just wish there were more of them.
Once you complete it, you can get into Shadow Fall's finest asset – the multiplayer. This is about on the level of what Killzone 3 offered, but with an improved unlock system, where you complete challenges to maximize your weapon potential and pick up other goods. The Warzone mode also returns, mixing up match types and keeping you on your toes. It could've used a few additional challenges here and there, but overall it's a great mode when it comes to battling your friends.
Killzone has no problem stretching the muscle of the PS4. The single player levels, while, again, a little too big for their britches, look amazing, and the up-close melee kills are truly satisfying, with a number to pull off – not just "stab and then stab the same way again." The audio is great too, with good musical pieces and solid voicework, despite the hang-ups of the script. Those Helghan soldiers still sound like bad-asses.
Though Shadow Fall did let me down in terms of reaching the same heights as Killzone 3 – let's face it, that game was gold – it's a solid first-person shooter for the PS4's line-up, and well worth tackling, especially if you've got friends to battle against. These dirty Helghans aren't going to kill themselves, after all.
RATING: 8 (out of 10)
(Review copy provided by Sony.)
Score: 8 / 10