Waka Waka Waka. That translates to I have Pac Man Fever!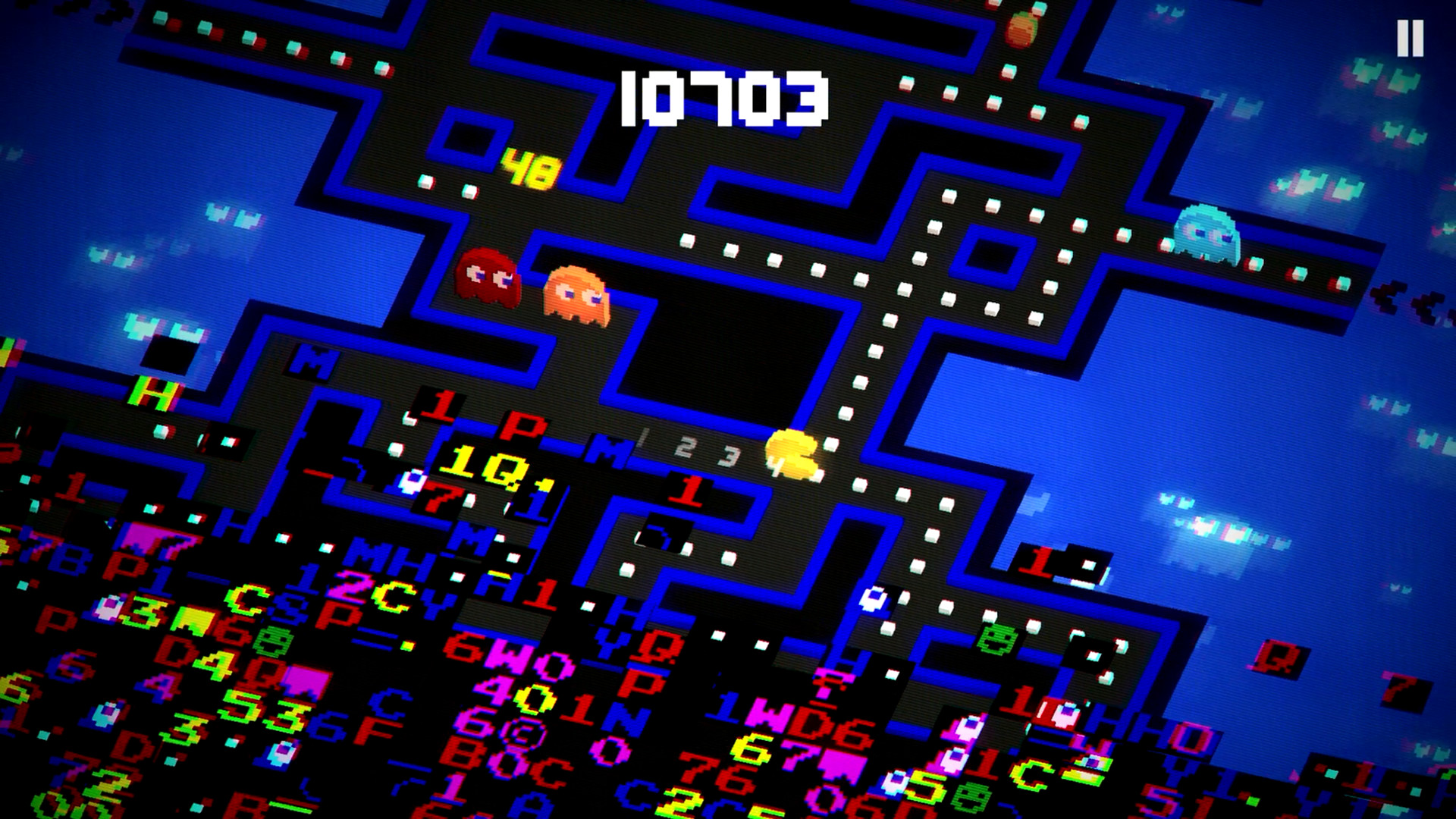 Pac Man 256 was one of the top mobile games of 2015 and this year will see the game brought to the PlayStation 4, Xbox one, and PC. 5 Bucks is what will set you back to get a case of Pac Man Fever but is it worth it? Lets get right into all the Waka Waka Waka!
Pac Man 256 pays homage to the legendary glitched level 256 from the Pac Man arcade game. You get about five or so seconds at the start of the play through before the glitch starts and then it will start to fill the screen with scrambled numbers and symbols. Will you be able to get the high score before the impending doom strikes?
The game plays just like classic Pac Man although there are some differences that give it the modern feel. For starters there are power-ups that you can collect during the game that you can use to stay in the game longer. Those range from lasers that can be used to destroy ghosts to the magnet that grabs nearby power ups and dots in the course/maze of play.
You'll collect currency during your quest to get the best score possible and those coins can be used to upgrade your power-ups. Along the game, you'll use the dots you collected to unlock power ups to use in game. One of my favorites is the laser power-up that gives you a beam of light that goes all the way down the path you happen to be on. Another power up that is very useful is the giant ability that increases your size and allows you to eat ghosts that happen to cross your path.
There will be times where the glitch give-ith and at the times where the glitch take-ith away. You might think ghosts block your path but the glitch will make them disappear and there will be times where you think a power-up will be put in the right spot but it turns out to be a coin. You'll also be able to drive through the glitch area for a few seconds but not too much longer than that. You might think you have the perfect path to get that power pellet but you'll need to traverse through the glitch to get it.
Collecting 256 dots in a row will initiate a course clear (I guess that's the best way to describe it) where the game will keep track of your "256" and kill all the ghosts near you. You can also collect fruit to create a multiplier as well as killing ghosts via power-pellet to create a multiplier as well. The more things you collect and eat, the better and faster your score will increase.
You'll be able to compete against your friends who have the game and registered to your friend-list. As you're playing, when you get close to your friend's scores, it will show their nickname as well as their score decreasing. It will also notify you when you pass their score as well as when you pass your all-time high score.
There are various modes of Pac Man to play but all of them have the same "256" style. What I mean by that is they all have the same collect the most dots/high score/avoid the glitch style of play. You can play Pac Mania or classic Pac Man or my personal favorite, Crossy Roads where Pac Man is a chicken and the ghosts are cars.
There is a random setting where you can have the levels cycle randomly for each gameplay but the game might feel repetitive after a few play throughs. Pac Man always that repetitive feel to it but in 256 is the thought of beating your friends score enough to get you back for more? If you want to upgrade all your power-ups, you'll need to play over and over again to collect dots and coins for upgrading.
Other than the repetitive feel to it, the only thing I didn't care for was that after every time you perished, you had to go back to the start screen/title screen. That doesn't take anything away from the gameplay but it just adds an annoying delay to a game that's all about being fast.
I get that the Pac Man theme needs to played somewhere and I need time to select my power-ups, but if I don't want to change them during gameplay, there should be an option where you can jump right into gameplay after you die. It's these reasons that I'm giving Pac Man 256 for the PlayStation 4 an 8/10, this is a cure for Pac Man fever but there could have been more brought to the game and less repetitive feelings. Chicken Pac Man is great by the way!
Score: 8 / 10