Do you have what it takes to keep the titans at bay?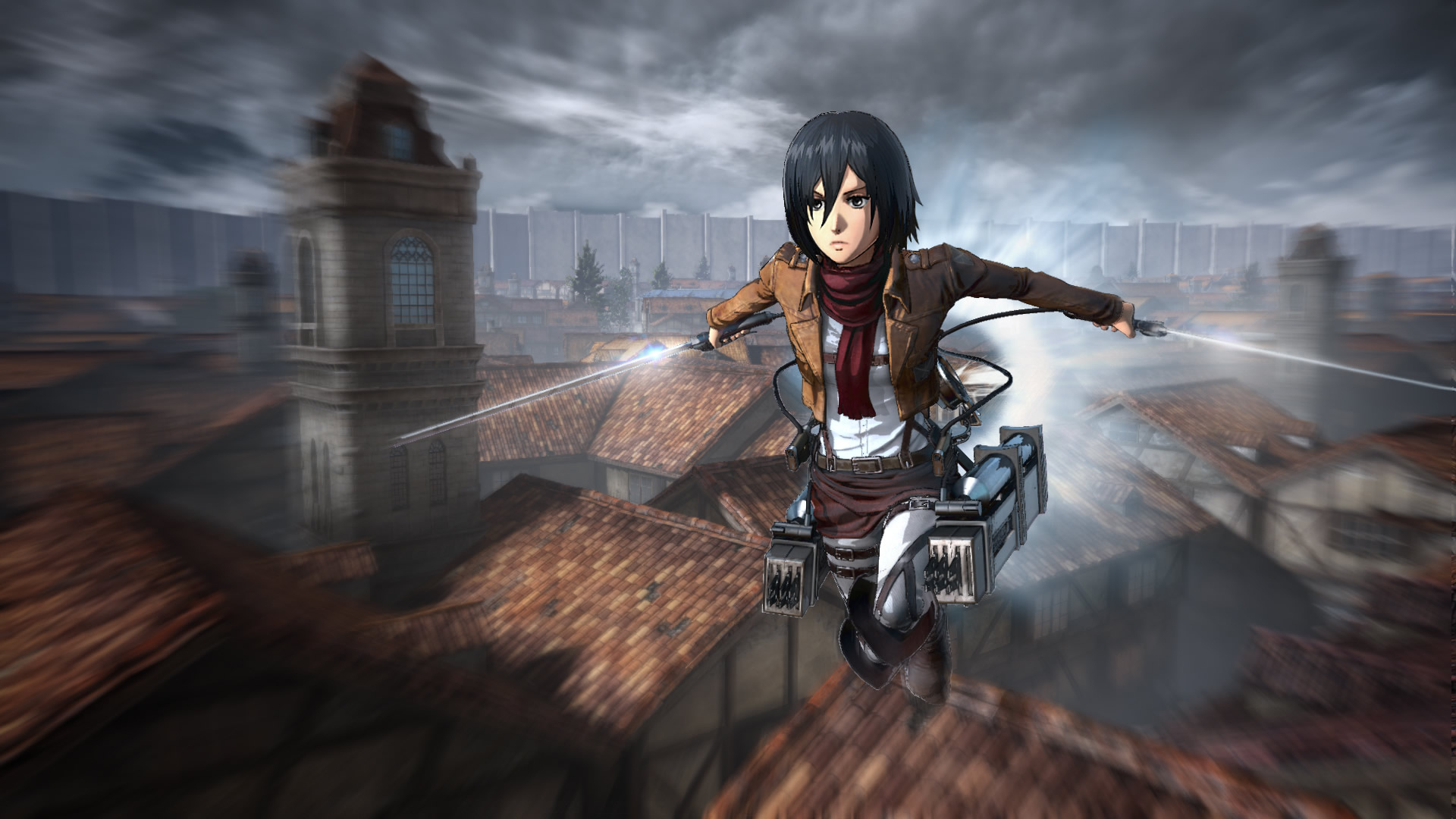 During this years Electronics and Entertainment expo, I was able to stop by the Koei Tecmo booth and give their games a test run. One of the games they were showing off was based on the anime, Attack On Titan. Let's get right into, the Titans aren't going to stay behind the barriers for ever!
For those who don't know, the Attack On Titan game for the PlayStation 4 goes hand-in-hand with the anime. It tells the tale of how Eren, Mikasa, and Armin cope with the titan attack when they were children. It also tells how the three enlisted in the military, for the sole purpose of avenging Eren's biological mother, who was eaten by a titan. I don't want to spoil too much of the story so check it out.
This could be a good first step for fans wanting to get into the series/anime since it does a decent job of telling the main events of the story. You get a brief tutorial mission to learn the controls. The mission has you just starting out in the military and you're learning the ropes or in a way, learning the controls.
The Controls are a little tough to get the hang of at first but with practice, you'll get there. The fast paced action of the anime is on full display here but at times, that isn't a good thing. The action moves too quickly to match the camera and you can't aim or see what part of the titan you have been instructed to attack.
You have to have precision at times during the titan attacks because if you don't, the titans could grab and attack/squash you. During the missions in the city, you'll have the ability to go help some of your fellow soldiers when they're in danger. This will give you the opportunity to get more supplies. The more supplies you get your hands on, the more weapons/tools you can buy/create. Better weapons means easier kills.
There are all sizes of titans to combat, ranging from giant to small. You never know what direction the titan mass will come from so you have to always keep an eye on your map.
The map wasn't that great and it was tough to read at times. Also, one of your main goals in missions is to subjugate the titans. It felt like at times you never knew when the last titan was going to appear. Sometime, it felt like your mission was over and you had no idea it was even close to ending.
Besides the main story, you have a few modes to play in. You can play multiplayer with friends online as well as survey missions. Survey mode is another way for you to level up your characters in solo missions.
Missions in this mode range from saving soldiers to attacking certain titans. As I mentioned, you can level up your characters and this gives the game and role-playing game aspect. Characters will learn different abilities while you level up. Each playable character has their strengths and weaknesses and you'll have to play with each one to find out which ones fit you best. I have to say, I enjoyed playing as Mikasa the most as it felt like she was the most complete character.
Everygame has good points and negative points and Attack On Titan is no different. The controls and camera angles weren't the greatest as it was hard to see what you were doing at times. It was also hard to control characters at times when time wasn't on your side, when you needed to get to a dying comrade.
There weren't too many unlockables to be had and when you did get them, there wasn't much of the game left to enjoy them. I also would have liked the option of an English voice cast and I know that I'm the minority on this one. The game didn't need a terms menu since fans of the series are buying the game and already know what these terms mean. It doesn't hurt the game but it adds something that could have been used elsewhere.
It's these reasons that I'm giving Attack On Titan for the PS4 an 8/10. I would like to thank Koei Tecmo for the review code.
Score: 8 / 10