Gamers can hear all the surround sound action of Treyarch's new shooter, Call of Duty: Black Ops II, with a full line-up of officially licensed head gear.
Turtle Beach has unleashed limited edition Call of Duty: Black Ops II Ear Force headsets ahead of the big launch of Activision and Treyarch's new shooter. Custom designed and optimized to deliver enhanced audio for the year's most anticipated entertainment launch, the distinctive line includes the Ear Force TANGO, Ear Force SIERRA, Ear Force X-RAY, Ear Force KILO and Ear Force EARBUDS. Accompanying the series' release are eight premium voice prompts for gamers interested in the ultimate immersion within the epic title. Available for download via the Turtle Beach website, the voice prompts feature leading characters from the Call of Duty: Black Ops II cast across single player, multiplayer and Zombies.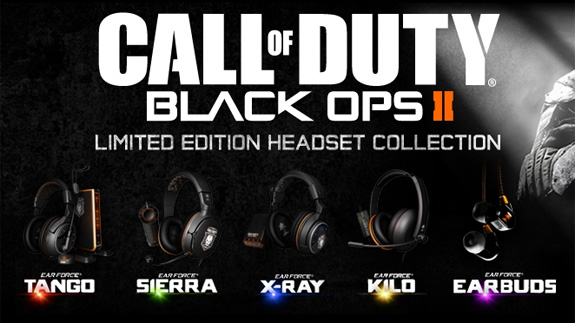 Turtle Beach Call of Duty: Black Ops II Head Gear
Whether accompanied by the tough and gravelly voice of Sergeant Frank Woods, the sentient tones of a Female Computer, or Dr. Richtofen's sociopathic proclamations, the voice prompts available for select Call of Duty: Black Ops II Ear Force headsets will ensure a seamless and completely immersive experience as players face-off for battle once the blockbuster game hits worldwide on November 13.
Turtle Beach collaborated with award-winning developer Treyarch on the design and unique features of each model, offering select compatibility across most major platforms. Each limited edition model contains a unique feature set, special packages, bonus content and a price point suitable for casual gamers to serious competitors. These models are specifically engineered and designed to enhance the audio experience across each scenario within the epic gameplay of Call of Duty: Black Ops II, while placing the technology of the future in gamer's hands today.
Ear Force TANGO – The top-of-the-line Tango headset offers Call of Duty: Black Ops II fans a sleek, premium design combined with Wireless Dolby Surround Sound, 2.4/5GHz Dual Band Wi-Fi, Bluetooth, and programmable presets for the ultimate audio experience across Xbox 360 and PlayStation 3. The Tango can be loaded with unique Call of Duty: Black Ops II voice prompts and exclusive audio presets custom-created by Treyarch for a signature game experience. Players also have the option of configuring personalized presets to customize game, chat and mic audio for different gaming scenarios. In addition, the Tango operates via a rechargeable battery for over 10 hours of uninterrupted gameplay. The earphones sell for $300.