The past comes to interactive life in the latest Tiger Woods video game.
Tiger Woods PGA TOUR 14 will feature a host of community-driven gameplay enhancements that will significantly change the in-game experience and how players approach a round on the links. From swing styles and greater ball control to era specific equipment and true ball physics, Tiger Woods PGA TOUR 14 continues to elevate the authenticity of the franchise and blur the lines between real life and virtual golf.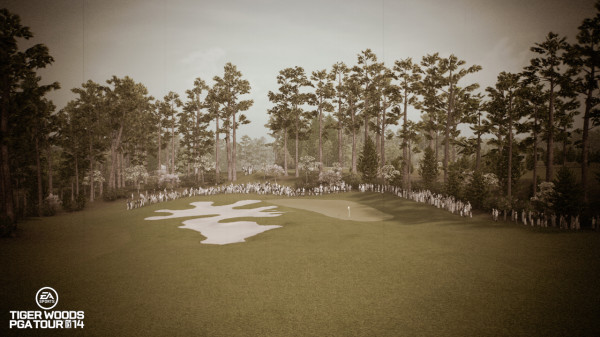 Go back in time and experience golf through the various eras, starting in the late 1800's through present day. As users advance through the timeline, they will see and feel the true ball physics and equipment representative of each era. In the early eras, ball spin and trajectory are slower and lower in comparison to how the ball reacts to today's equipment. Fans will be able to hit the links with retro golf clubs, such as Mashies, Brassies, Baffing Spoons, Jiggers and Niblicks. Pairing the old equipment with the true-to-life ball physics from those early years gives golf fans an authentic gameplay representation of what it was like to play a round in those eras.
Presentation elements in Tiger Woods PGA TOUR 14 have been completely revamped to put players right into the action and emotion of a PGA TOUR broadcast. The first thing users will see is new situation specific data, scoring and a broadcast presentation package that emulates a tournament-like television experience. Additionally, statistics will surface throughout each round, letting you track your performance against the rest of the field in a variety of categories such as, driving distance, putts per hole and birdies. This year, Tiger Woods PGA TOUR 14 will feature over 3,300 camera shots, including overhead, close-up and green-side angles in addition to many others. Even the look and feel of Tiger Woods PGA TOUR 14 will shift alongside its real-life majors as players will also see the leaderboards that are distinct and synonymous with the Masters Tournament, U.S. Open, The Open Championship and the PGA Championship.