Paramount releases a new featurette for Star Trek Into Darkness.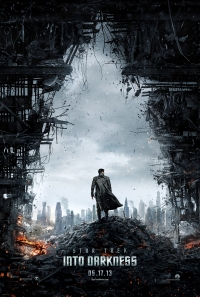 J.J. Abrams brings forth an epic tale of The Enterprise and it's crew. Captain Kirk takes his crew on a journey to bring down those who committed an act of terror on Earth.
J.J. Abrams happens to be one of my all-time favorite directors. After Alias, I was hooked on anything he produced/directed/ or wrote. His calendar must be busy since he is also directing the new Star Wars: VII. I have full trust in his abilities as a director to enter into the Star Trek Enterprise.
Star Trek Into Darkness will open in select IMAX 3D theaters May 15th, 2013 and will open in theaters everywhere May 17th, 2013. Check out this first look featurette!