Ubisoft has already announced plans to ditch Assassin's Creed 3's hero, Connor Kenway (or Ratonhnhaké:ton) in Assassin's Creed 4. Fans are forming groups, writing petitions, and taking to social media in order to save Connor. This is my appeal. Heavy Spoiler Alert for both AC3 and The Tyranny of King Washington.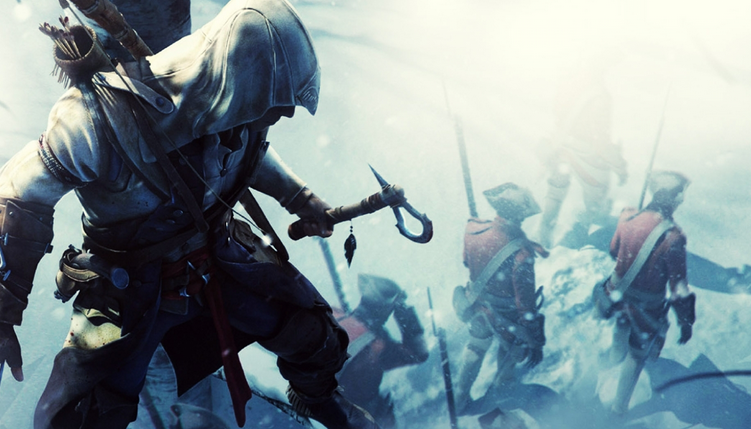 When Ubisoft's much-anticipated Assassin's Creed 3 was first released, fans were a little more than underwhelmed. The came was glitchy, seemingly unfinished in plotline, with a hero that was so radically different from the extreme personalities of other characters past that he seemed too emotionally inaccesable to fans. Players didn't like Connor: he was 'boring', 'too stoic', 'too bland'. But I, personally, thought Connor was justified. At the end of the game, Connor is a mere 28 years old, as opposed to previous heroes having their legacies documented throughout the entirety of their lives. I sincerely do not think fans were given enough time for Connor, and I truly believe that Ubisoft rushed this one far too much.
The iconic heroes of Assassin's Creed come with a lot of baggage -- many lose their families, betray their societies, and generally live alone. I'm going to be honest and admit that it was not Connor Kenway, but Ezio Auditore da Firenze who first hooked me to the Assassin's Creed series, but it has been Connor that has stolen my heart. Connor showed us a part of American history that so many people have come to deny or neglect: the part where, no matter whose side you were on, you could not win the American Revolution as a Native American. Beyond that, Connor has shown us a character that is, perhaps, not as extroverted as Ezio (sorry Altair, we love you and all), but is someone who has gone through serious trauma and rose up to create his own courage, his own honor, his own legacy. He may not be outspoken, he may be young and naïve, he may not be a playboy or a scholar, but Connor is a genuinely good person, and that's something we rarely see in both video games and real life.