Mel Gibson stars in the franchise that made him a star.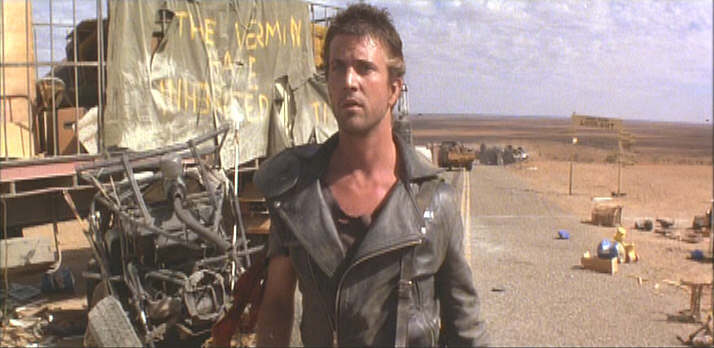 These days, Mel Gibson is more crazy than Mad Max, but fans of sci-fi remember his glory days and this great collection of post-apocalyptic films. With Frank Miller continuing his franchise with a new cast and Tom Hardy taking over the role in Mad Max: Fury Road, Warner Bros. is offering the original collection for the first time as a Blu-ray collection on June 4.
The three films – Mad Max (1979), Mad Max Road Warrior (1982) and Mad Max Beyond Thunderdome (1985) – are all set in the near-future in Australia. From the very first film, Oscar winner George Miller (Happy Feet, 2006) proved a master at creating the gritty, bleak dystopian world and staging the incredible car stunts and crashes in the era when stuntmen, not computers, achieved the effects. All three movies starred Mel Gibson, virtually unknown until after the second film, as Max Rockatansky, a highway cop traveling through the Outback in a society descending into chaos. The films started Gibson on his road to international superstardom, led to his signature Lethal Weapon series, and later two Academy Awards for his roles as producer and director of Braveheart (1995).
This must-own collection for action fans is available in limited premium tin packaging and makes a perfect gift for Father's Day. The collection will sell for $50 on Blu-ray Disc. Mad Max Beyond Thunderdome, which is making its Blu-ray debut, will also be available as a single along with Mad Max Road Warrior.
In the long-delayed fourth film, Mad Max is caught up with a group of people fleeing across the Wasteland in a War Rig driven by the Imperator Furiosa. This movie is an account of the Road War which follows. It is based on the Word Burgers of the History Men and eyewitness accounts of those who survived.